There has been the patter of tiny feet at our newest development in the Eden Valley.
Just three weeks after moving into their brand new Story Home, Rachel and Chris Algie welcomed a beautiful baby boy to their family.
Baby Hughie was born on Thursday 12 March and weighed in at a perfect 8lbs 2oz. His older sister, Tilly, is only three and she's delighted with him. In fact, she thinks he's the best thing in her new home!
Rachel, Chris and their family are the first residents to move into our new development, The Meadows in Lazonby and are delighted with their dream home. Chris, 31, says: "We really wanted this house – the plot is perfect as we have great views over the fells. We've got a massive garden which means we can keep the dogs outside and the farmer has a pony in the field behind us. It's perfect!"
"At the moment Tilly loves to sit in the dining-room and watch all the diggers and dumper trucks on site while she's eating her meals. They're keeping her entertained."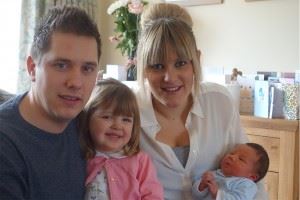 The couple have lived in two Story Homes previously and love the quality of the build. They rented a flat in Tudor Court, Penrith and then moved to a house at Low Farm, Langwathby. When they found out that their landlord was selling up, they instantly knew they wanted to buy a home for their growing family. Rachel, 27, comments: "We love the build quality of Story Homes and wanted a home that we could stay in for a long time and have confidence in."
Chris is a sales manager and spends a lot of time travelling throughout north west England and Scotland, although currently he is enjoying spending some quality time with his family. Time is precious for working families and making your new house feel like a home is important to both Chris and Rachel. "We wanted a brand-new house as you can just move in, unpack and make it home as there's no decorating to do." Rachel said.
Rachel is a deputy manager at a Kiddlywinks Nursery in Penrith and was very eager to move into their new home before Hughie was born. "The doctors were going to take me into hospital to be induced and I was worried that we wouldn't be settled in our new home in time. However, things went to plan in the end and now we're just enjoying being together as a family in our new home."
Chris and Rachel couldn't praise Story Homes' Sales Executive, Diane Gilbertson, enough and Chris commented: "Diane was excellent: she was a real help and we can't thank her enough." Rachael went onto say: "She's been to visit us since Hughie arrived and even brought presents for both the baby and Tilly. Diane was excellent: she's worked for Story Homes a long time and is really experienced. Her help was invaluable."
The family is living in a 4-bedroom detached 'Arundel' home which offers light and airy living spaces: just perfect for the Algies. They bought their house 'off plan', before the foundations were even in, as they knew the house and plot would be perfect for their needs.
Th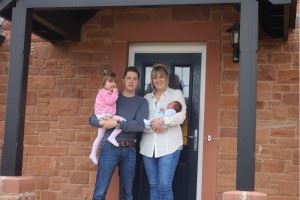 e Meadows is situated in the pretty, picturesque village of Lazonby and has a lot of local amenities on its doorstep including a primary school, two excellent pubs, a supermarket and an outdoor swimming pool.
For more information on our high-specification homes at The Meadows, click here or call Diane on 07811 985889.