Monday 14 July 2014
Anne takes the reins at Kingsbrook Wood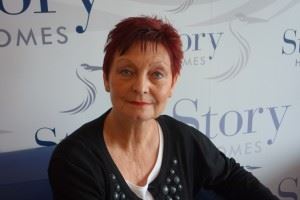 With sales about to launch at Kingsbrook Wood, a new sales adviser has been recruited to help advise customers about our homes. Anne Ambler, an experienced sales adviser from the area, will be the sales adviser based on site five days per week. With more than 22 years in the industry, Anne, 59, currently living in Darlington, has previously worked for various major home builders up and down the country as far north as Northumberland and as far south as Kent and London.
Anne said: "When I heard about the vacancies at Story Homes through an old work colleague, I started to find out more about the company and their homes. I was really keen to come and work for Story Homes as the company is really growing and expanding in the North East. Safety, quality and customer care are all really important to Story Homes which is fantastic.
"Story Homes was recently awarded the HBF five star customer care award and this to me says that they really care about their customers. The after care service that Story Homes provide is a real plus for people buying a new home and it gives so much reassurance to a buyer. I can't wait now to get the new sales office set up on site and start meeting my first potential buyers. Working in Middlesbrough is a first for me so this is a new challenge."
Work has now started on site at Kingsbrook Wood, with 126 new 3 and 4 bedroom homes planned for the development.
Anne said of Kingsbrook Wood: "The development has real kerb appeal and the homes all have character; they are not just rows of boring houses. Story Homes are selective and only build in the best locations and they really take the time to find the right mix of homes and use the best materials and designs to create communities. Kingsbrook Wood will feel like a village, but will still have the great access to the A19 for commuters and great amenities thanks to the nearby town centre. There is also the coast not too far away which means that you have the best of both worlds. With such high quality and a high specification, I think that customers will pay that little bit extra to buy their dream Story Home."
If you would like more information about Kingsbrook Wood visit https://www.storyhomes.co.uk/developments/kingsbrook-wood/ or call Anne directly on 07814286048.
Share
Back to news