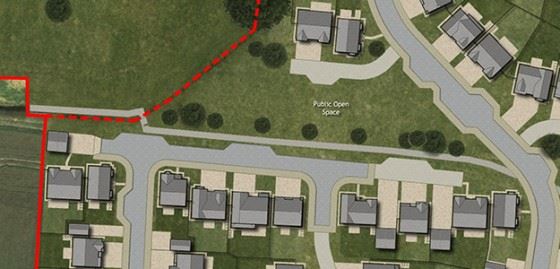 Status:
Approval pending
Stage:
Detailed Planning Application
Land South of Elwick Road, Hartlepool
Hartlepool Borough Council has resolved to grant permission for our proposals to build 153 high quality new homes on this site as part of a hybrid planning application for up to 208 homes, subject to the completion of a legal agreement.
Our proposals would create a sustainable and integrated development that would make an important contribution to the Borough's housing supply.  The proposed development would deliver a mix of detached and semi-detached dwellings.
Full details of the application can be viewed on Hartlepool Borough Council's website using the application reference H/2015/0551.
Register your interest
Benefits
Public Open Space
Our proposals will include the creation of new open space for the benefit of local people and new residents alike.
Sustainability
Our proposals will include a travel plan that will include measures to help reduce reliance on private vehicles.
Job Opportunities
Our proposals will support existing local businesses and help create additional employment through new opportunities for local sub-contractors and the supply chain.
Meeting Housing Needs
The site will provide a range of 3 to 5 bedroom family homes that will help to meet local housing needs.
Highway Improvements
Our proposals will deliver any necessary highways works, with the detailed design and timescales for implementation to be agreed with the highways authority.
About Us
We are a family grown business with 30 years of experience in developing land and communities. Since 1987, we have grown into one of the most respected and well-known companies in the north of England thanks to our designs, our ability to sensitively plan and build developments that retain the character and style of an area, our customer service and our attention to detail. Our success is built upon our excellent reputation, knowledge and understanding of the industry. This success is underpinned by the quality and high specification of our homes, the way our developments enhance locations, and ultimately our determination to understand the needs of the communities where we build. In partnership with our subcontractors and supply chains, we always strive to go the extra mile in everything we do:
We employ local people
We use local materials where possible
We support local communities
We are a good neighbour in the communities we impact upon
We build beautiful homes which will continue to look great in years to come
We develop schemes that enhance communities
We build high quality, high specification, desirable homes
We provide 'affordable' homes for local people
We collect detailed feedback from our customers and identify and take action on areas for improvement
Closed for comment
This consultation is now closed for comments, but you can still register your interest in the development below.
Register your interest