Ashleigh Rickards
Brookfield Woods, Acklam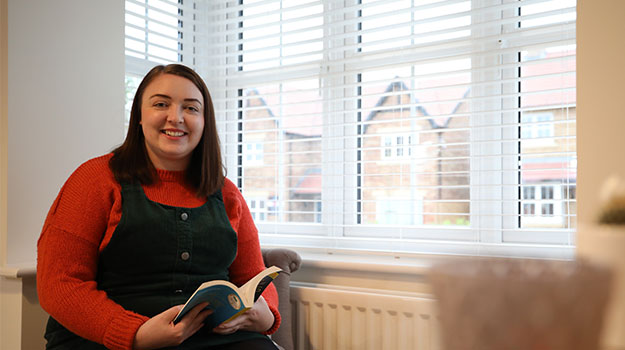 "The whole process of buying my home was great from start to finish"
A young professional has secured a brand new home in Acklam, Middlesbrough – moving from nearby Normanby.
Ashleigh Rickards, a children's nurse, has recently moved in to her new build property at housebuilder Story Homes' Brookfield Woods development.
Having previously lived in an older house, which required significant maintenance, Ashleigh was keen to experience the benefits of a new build. She said: "I was looking for a new build as I found that there was a lot of hassle decorating and renovating my previous home. It was also expensive to run, so I felt that moving to a new home would alleviate some stress.
"However, I was still keen for my home to have a bit of character to it, so I decided on a Story home because the houses are all so different, and seem unique even though they are new builds. My house has a cottage look which I love. My favourite feature is the bi-fold doors to the spacious garden, and I'm also really happy with the high quality finishes of the kitchen and bathroom."
Ashleigh chose the three-bedroom semi-detached 'Kingston' – an ideal house type for an individual or couple buying their first home. "The Kingston was affordable for me and just the right size with living alone. I loved that with a Story home you get a lot of choice and extras in the kitchens and bathrooms, which are included in even the smaller properties."
Reflecting on her overall experience, Ashleigh said: "The whole process of buying my home was great from start to finish. The staff on site have been very helpful and I couldn't have asked for better service."
Kayleigh Pinchen, sales manager at Story Homes, said: "We are really pleased that Ashleigh found her ideal home on our development and is enjoying her new home. Brookfield Woods is selling fast, with a limited number of four-bedroom homes currently available.
"We also have our two show homes for sale, which come fully furnished with a significant amount of upgrades included. These would be a great purchase for anyone who is looking to move into a readymade home with luxurious fixtures and fittings."
Brookfield Woods is open daily from 11am to 5pm. For more information visit www.storyhomes.co.uk.
Back to comments