Amber Asher
Chancel Place, Longhoughton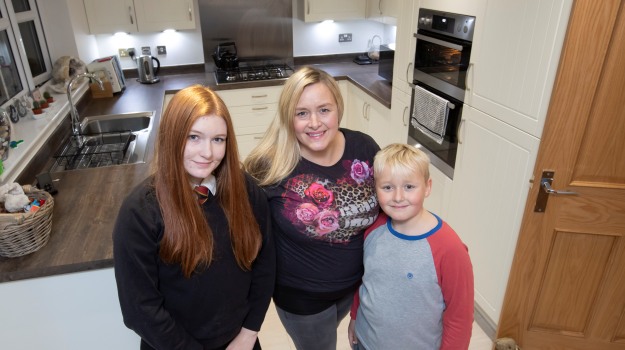 "The large kitchen diner is a great family space and has really encouraged us all to come together."
A family of outdoor enthusiasts have made use of the government's Help to Buy scheme to secure a brand new home near to Northumberland's beaches and countryside.
Amber Asher and her children Philippa, 15, and Soren, 9 – plus their cat Marmaduke – have recently moved into a four-bedroom property on our Chancel Place development in Longhoughton.
Having previously lived in the area for ten years, Amber was keen to move back to the village for the community atmosphere, activities held in the community centre and convenient location for outdoor pursuits. The Ashers rented a property in Alnwick for a year, with the intention of returning to Longhoughton as soon as they could.
IT professional Amber was looking for a larger home to accommodate the children as they grow and to have space for a home office. She said: "We needed a house that would allow the children to have their own space and have friends round for sleepovers, and I work from home so needed an additional room to use as an office. I liked the idea of buying a new-build so that we could just move in and not worry about doing any work to the house or lots of maintenance."
The Ashers chose our Wellington house type, with Amber citing the high specification of the kitchen and bathrooms, open plan kitchen/dining area with bi-fold doors and the integral garage as key benefits of the new home.
She commented: "The large kitchen diner is a great family space and has really encouraged us all to come together. The garage was essential for us as we needed to store our outdoor equipment, such as paddleboards, kayaks, wetsuits and walking boots. What's even more useful is that there is an internal door into the garage, which I found that many other new-builds don't have."
Since moving in, the Ashers have been making full use of the location of their new home, with Amber walking to the beach in her lunch hour at least twice a week and the family often travelling the short distance to local Northumberland castles and other attractions.
Amber continued: "The location of Chancel Place was absolutely key. I like living in the countryside and I love walking out of my house and seeing the fields and trees around us; it isn't what you'd expect from a new housing development. Longhoughton provides easy access to some great beaches and the sea and to the Cheviot Hills for walking. It's like being on holiday every weekend!"
Back to comments