Barry & Terri Johnson
Crindledyke Farm, Carlisle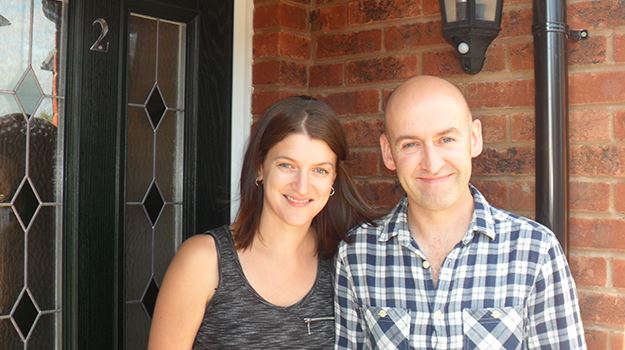 The first couple to move into Crindledyke Farm are delighted with their purchase and can't speak highly enough about the development and the staff involved in their move.
Barry and Terri Johnson are the first residents at Story Homes' 'Urban Village' Crindledyke Farm. They have been spending their evenings in the garden of their new semi detached 'Aspen' property and enjoying the peaceful and quiet lifestyle their new house allows them.
Terri said: "We sat out in the garden on our first weekend here enjoying a drink in the evening sunshine and it was so quiet. We couldn't believe it! We are so close to the town but it feels like we are out in the countryside."
Terri, 33, and Barry, 37, hadn't always planned to buy a new build at Crindledyke Farm. They had their own property in Carlisle on the market and viewed a Story Home in Wigton after hearing good things about Story Homes' reputation for quality. The couple lived close to Parkland Village, another of Story Homes' developments, and had admired the properties from afar.
They couldn't successfully sell their own property so gave up looking for a new home. However, an email from Story Homes in November 2012 about the Crindledyke Farm development prompted them to go along to an open evening at a local estate agency.
Barry said: "We didn't plan to buy anything. We went along out of curiosity and we ended up finding a perfect property. It was affordable, large enough for us, had a garage, an en suite and was semi detached; just what we wanted to help us take the next step up the property ladder.
"We put a deposit down there and then, just from looking at the plan and picking the plot and house type we wanted. We were a little nervous as we hadn't seen it but we had seen other Story Homes houses and heard so many good things about the quality that we were confident we had made the right choice."
Barry, who works for a local wholesale company, and Terri, a Trainer Assessor, have been married for three years and lived in their old home for more than seven years. They part exchanged the house and lived in it until the new house at Crindledyke Farm was ready in July 2013.
Terri said: "The fun part was choosing all of the things that personalise the house. We got to pick our kitchen, the tiles, the flooring. It's great knowing that everything is brand new and nobody else has lived in our house except us. We even took some extras like the additional door in our garage. It means that the house is perfect for our needs."
The couple can't speak highly enough about the experience of moving into their new home. Site Manager Mark has been round to introduce himself and Sales Adviser Jane has already introduced them to their new neighbours.
Terri and Barry are now looking forward to meeting the rest of their neighbours as they move into Crindledyke Farm over the coming weeks and months.
Back to comments