David Woodend and Mike Johns
Whins Farm Close, High Harrington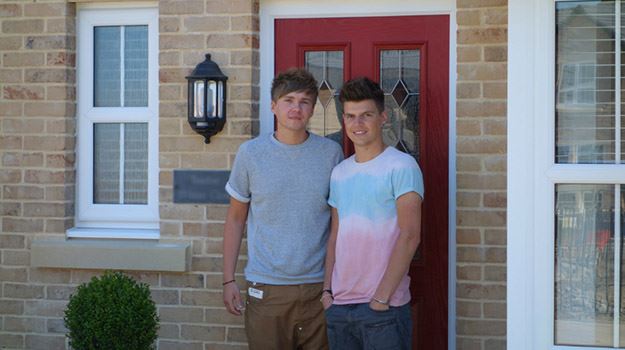 Moving to Whins Farm Close has allowed David Woodend, 25, and Mike Johns, 24, the opportunity to build their dream home; meticulously designing it down to every final detail
Moving to Whins Farm Close has allowed David Woodend, 25, and Mike Johns, 24, the opportunity to build their dream home; meticulously designing it down to every final detail.
The two customer service advisers chose the Kingston house type at High Harrington as their preferred property; a stunning 3 bedroom semi-detached home. Mike said: "As we were both first time buyers the Kingston was the perfect size for what we needed and it was within our budget too".
He continued: "I have lived in High Harrington my whole life and David is from St Bees so we were keen to stay in the area. Whins Farm Close is in the perfect location for us both commuting to and from work as well".
David added: "I first heard about Story Homes when I lived at St Bees and their Fairladies development was very popular. I knew of their reputation as a high quality house builder and this was even more evident when we were visiting multiple developments from other companies. After visiting Story Homes' Magellan Park in Whitehaven we were really impressed with it and knew Story Homes was the right choice for us. We found that the quality of Story Homes and the finishing touches far exceeded other developers. We also liked the fact that the garden was landscaped and what Story Homes included within the price of the house other companies charged for as extra".
With so many 'extras' included as standard, such as kitchen appliances, turfed garden and stained staircase, David and Mike could spend more time on the intricate aspects and introduce personal touches to their home. They were involved from the very first day they reserved their plot; even down to the placing of plugs and sockets.
Both were delighted with the help and support received when designing the house, David said: "The sales adviser Carreana and the site managers couldn't do enough to ensure everything went smoothly. Carreana was only a text or call away. Nothing has been too much trouble."
The house has been stunningly designed and has a modern, clean look to it. It is predominantly white with timeless touches of greys and chromes adding that extra personality. LED lighting offers a further modern twist throughout the home, from lighting on the mirrors, the aquarium and even the bedroom wardrobe. One of the major highlights is the main bedroom with en suite, where the bed has a television coming out of it; weighing a whopping 60kg. This was all part of the planning and to ensure there were no stray cables, sockets were moved to the middle of the room, before moving in, where they could easily feed into the bed.
When talking about life in a new home, David said: "The best thing about owning a new home is that we were able to move into our perfect house and start living in it. Everything was finished to our own taste and satisfaction. We love how our house is set back off the roadside and has a large double drive. We like that the living room is on the back and the double doors open out into our garden, which is a real sun trap."
One of the most popular incentives at Story Homes is the Help to Buy scheme; and one that was taken advantage of by David and Mike. Mike was delighted when he heard about the scheme: "We were both first time buyers and with Story Homes offering Help to Buy it was great for us and meant we could buy a house quicker than we thought. Along with the release of the Whins Farm Close development, timing was perfect for us and everything fell nicely into place".
Now that they have their perfect home the two of them are excited about how life will be at Whins Farm Close: "Life here is quiet and there are plenty of open spaces. We are both very happy here and would recommend to anyone looking for a new home."
Back to comments