Frank and Jane Lynch
Chancel Place, Longhoughton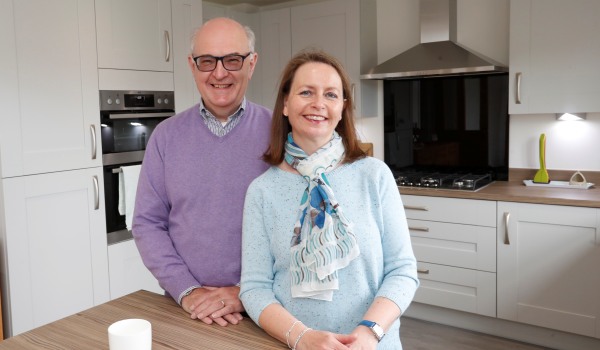 "Chancel Place is in a fantastic location; it's near the beach and coastal walking routes, close to Alnwick's excellent amenities and within close proximity of our friends who still live in the area."
A couple have relocated from Berkshire to Northumberland, purchasing a new-build home at our Chancel Place development for their retirement.
Frank Lynch, a retired engineer and his wife Jane, a staff nurse at Newcastle RVI, decided to move across the country from Sandhurst in the south up to the village of Longhoughton, five miles from Alnwick.
The couple and their cat, Ellie, are now happily settled in their four-bedroom detached Taunton house type at Chancel Place.
Frank explained: "We sold our house in Sandhurst with the aim of returning to the North East, where Jane grew up and where I had previously been stationed in the Royal Air Force. We wanted to retire on this beautiful coast with its friendly people and places, and hopefully live a healthier lifestyle.
"Chancel Place is in a fantastic location; it's near the beach and coastal walking routes, close to Alnwick's excellent amenities and within close proximity of our friends who still live in the area."
Frank and Jane were not originally planning to buy a new-build property, but having seen an advert for Chancel Place when looking for houses in the area and found out more about Story Homes' reputation, they decided to take a closer look.
They continued: "The size of the homes, high specification and great location persuaded us to go for a new-build. We chose the Taunton house type due to the layout of the ground floor, which offers easy, open-plan living. Everyone who has visited us has been impressed with the flow of the downstairs. Plus, having a four-bedroom home means we have a room each for an office or other interests as well as a guest room."
Commenting on their experience with Story Homes, Frank and Jane said: "We are very pleased with the service we have received from everyone we have dealt with. The Sales Executive, Amber, and the site team have been extremely helpful throughout the process, and we have become very attached to them all due to the great customer awareness they have displayed and all their support."
Back to comments