Graeme & Claire Bainbridge
Birkbeck Gardens, Kirkby Stephen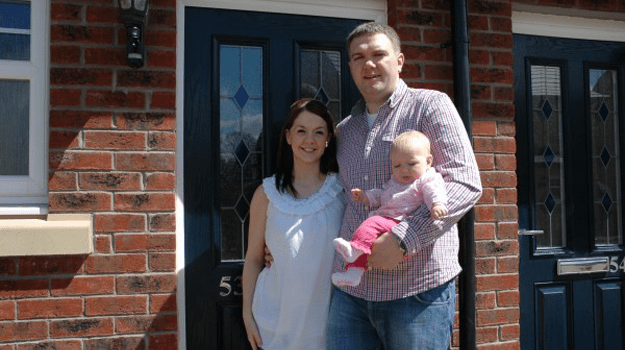 Graeme and Claire Bainbridge don't do things by halves……they bought a Story Home, landed a new job and welcomed the first Birkbeck Gardens Baby, all in the space of just a few weeks. Now the family have been able to celebrate their first Father's Day in their beautiful new home.
Graeme, 30, and Claire, 26, first looked at the Birkbeck Gardens development by chance when they had been visiting family nearby. They popped in to chat with a Story Homes sales adviser before travelling home to Kendal.
Graeme said: "We had almost given up hope of finding our first home. We wanted to get onto the ladder but everything seemed so unaffordable to us. Things like deposits and stamp duty were a worry. And with a baby on the way, we didn't want to buy a house that needed lots of time and money spent on it.
"When we saw the Story Homes development, we realised how affordable the houses were, and with 5% deposit paid for us, we just decided to go for it. Our move went very smoothly and we were able to move in much quicker than we had anticipated, at what was a very busy time in our lives! Claire was expecting our first baby on the 24th February and we moved in on the 16th of February. I had also just started a new job. We don't do things by halves!
"The important thing was to make it as stress free as possible and Story Homes and their sales adviser really helped us to achieve this."
Claire, a midwife, said: "We just decided to go in and have a look at the houses in January. We had been looking at other properties for a couple of years and because I was pregnant, being close to family and home appealed to me.
"We really liked the development and the houses and also the fact that we could be close to our family and friends when the baby arrived. We chose a Bay house type and set the wheels in motion from there. I had no time and energy for renovations or redecorating so moving into a brand new house with no work to be done was absolutely perfect."
Graeme added: "We can't imagine not having our family here now that we have Grace and the great thing is that she will get to grow up alongside the children of our childhood friends. Some of our family and friends have been so impressed with the house that they are also looking at Story Homes' properties to buy."
Back to comments