Nikki & Paul Skelton
The Woodlands, Shotley Bridge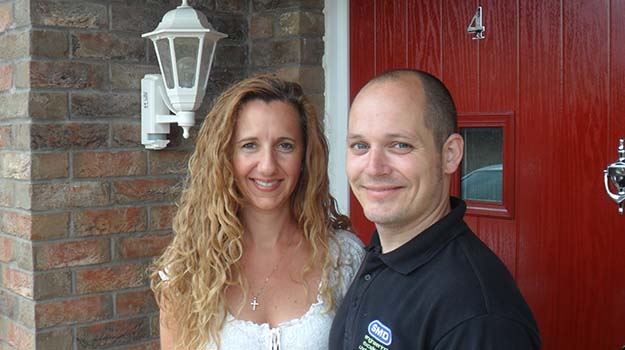 When Nikki and Paul Skelton tied the knot, the found themselves in the usual predicament over where to live.
Both owned smaller houses in Whitley Bay and Killingworth but they wanted a bigger family home to call their own as a couple. After visiting The Woodlands at Shotley Bridge, a new development by Story Homes, Nikki and Paul set the wheels in motion to purchase a brand new home.
"Everything moved very quickly. One minute we were searching the web for new builds, the next day we were visiting the plot and the two beautiful show homes at The Woodlands. By the end of the week, we had agreed a price to part exchange my bungalow and reserved plot 13, a four bedroom 'Belsay' house type.
"The plot was ideal and the build quality and finish of the homes was far better than anything we had seen. The location was also ideal as we had a vision of living in the countryside so The Woodlands was perfect.
"We love the layout of the Belsay, it was just what we were looking for. The outlook over the countryside is amazing and I love the fact that nobody else has lived in my house. Everything is brand new and of a very high quality. The development gives us the quiet lifestyle we wanted.
"The sales advisers really made the purchase as quick and easy as possible and welcomed us to pop by at any time before the sale went through. We had a fantastic time choosing the finishing touches to our house, from the tiles to the carpets.
"Our new house immediately felt like home and we couldn't be happier here at The Woodlands."
Back to comments