Rachel Cowell
The Woodlands, Shotley Bridge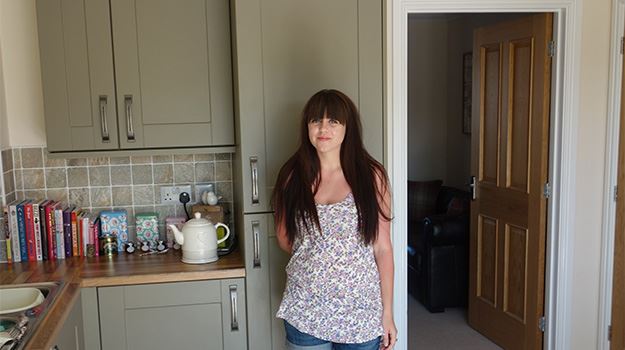 Lecturer, Rachel Cowell, has taken her first steps onto the property ladder and purchased the stunning Gibside house at The Woodlands in Shotley Bridge.
Having previously lived with her parents in a neighbouring town, Rachel, 25, was keen to find her own place and gain more independence. Rachel saw Story Homes' Gibside house, a stunning 2 bedroom plus study, as the perfect property to purchase as a first time buyer.
Originally looking for a cottage in the Derwent Valley area, Rachel stumbled across The Woodlands site in between viewing other properties, and never looked back, saying: "I don't usually like new build properties as I can find them too alike, but I immediately loved The Woodlands site! There are many different houses which have different features and renders giving the site much more character than a standard new built estate".
Rachel continued: "I liked that the front of the house was built from stone rather than brick, as this gave it a real cottage feel. The location of the site was great too, as I was keen to stay in the Derwent Valley. "
To her delight, moving in to a brand new home also came with other benefits: "The best thing about owning a new home was knowing that I could move straight in and not have to worry about decorating or dealing with any unexpected problems. Another bonus was having a brand new kitchen and bathroom of my choice without having to worry about any additional costs"
Talking about her favourite things at her new home Rachel added: "I love that I have a south facing garden and this has been great over summer, but the best thing about my new home is baking for friends and family in my lovely new kitchen. Life at The Woodlands is very peaceful. Although I'm in walking distance of shops and pubs, I feel as though I live in the heart of the countryside."
Back to comments