Sonia and Ken Thorn
Kirkland Fold, Wigton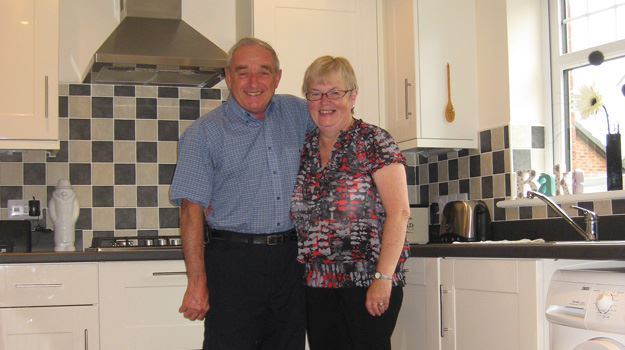 Sonia and Ken Thorn loved their Story Home so much that they bought three! The couple purchased a 4-bedroom detached 'Warwick' with integral garage on the Kirkland Fold development in Wigton. The Thorn's and their two daughters liked the properties so much that all together they've now bought three properties there, having moved from the north of Scotland and the south of England to be close to their parents.
"We arrived at the development and were met by such a lovely, friendly sales lady, Carreana, who has been so helpful and wonderful throughout. She showed us around the 'Warwick' show home and as soon as we walked into the hall we were sold. It was so light and airy. Carreana showed us around some other houses being built but we still liked the Warwick the best as we could easily see it fitting our children and grandchildren in when they came to stay. We cancelled the other viewings and that was it. Decision made!!
"We rang our eldest daughter Tracey who was living with us in Exmouth and told her that we had bought a house for ourselves and that we had seen a 3-bed 'York' house type that was perfect for her and our grandson, and that we had bought it for her!!
"Our other daughter, Anna and her family visited over the Easter weekend, and just like us, as soon as they walked in they loved the light and space. Within five minutes Anna and her husband Clive were so impressed with our house that they decided to buy a house here too. Clive is in the RAF and is being posted soon so the area is ideal. So house number three, a 4-bedroom detached 'Ascot' was viewed and reserved and is now nearing completion –  Sonia and I can watch its progress from our house."
Back to comments