Mandy Nicholson and family
Chancel Place, Longhoughton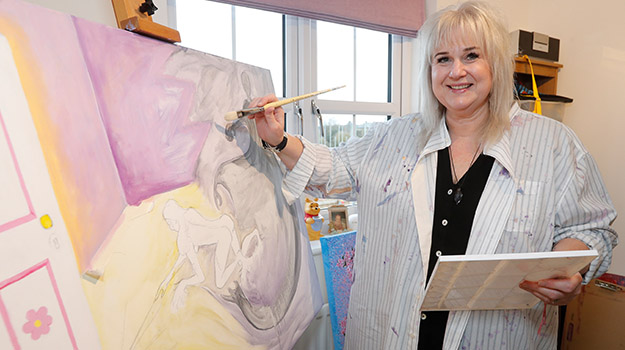 "This home is an achievement, a milestone and the start of something new and exciting"
Mandy Nicholson, who is an artist, coach and author recently moved into a four-bedroom, detached 'Taunton' house type at Story Homes' Chancel Place development, along with her husband Gary and two children, Becca (19) and Dan (15).
The family had been waiting for three years for the perfect home to become available in the coastal village, when they finally found their dream home at Chancel Place.
Mandy said: "We decided upon a Taunton house type because of the huge amount of space in the property. We needed larger double rooms for our two teenagers and an art studio and workshop for me to paint and write."
Gary explained: "We weren't initially looking for a new build home specifically, but the space, light and the property's potential are what encouraged us to buy a Story home. I was born with Cystic Fibrosis and had a double lung transplant 15 years ago, so we will eventually need a single level space. The Taunton is ideal as we will have the opportunity to convert the attached garage into a living space when necessary."
Discussing their favourite features of the property, the couple said: "We chose a Story home because of the high quality and specification included as standard compared to other builders. The kitchen/dining area is extremely spacious, and the upstairs dormer window lets in an amazing amount of light. The bay window in the living room is also a beautiful feature."
Having an artistic streak is a trait that Mandy has passed onto her two children, and she explains that the whole family are "artsy, antique lovers and generally 'wacky' in their taste."
She said: "Our son Dan is autistic and generally very ordered and prefers clean lines. He wants to be a graphic designer and has chosen to have a separate computer section and architects drawing desk in his room with a bit of a 'flamingo theme'.
"Becca is a fashion student and artist who had a budget to create her own look in her room, also choosing an architect drawing desk so that she can create in her space. A mix of antique, retro and modern makes her room her own."
Kayleigh Pinchen, sales manager at Story Homes, said: "We are thrilled that Mandy, Gary and their family have been able to move into their new Story home at Chancel Place after years of waiting for the perfect property to appear.
"The homes at Chancel Place have garnered significant attention and are selling fast. With just six plots remaining we would encourage house-hunters to come and view our Taunton show home and find out about the remaining properties, because once they're gone, they're gone!"
In summary, Mandy explained: "We are really pleased with the service we have received from Story Homes. The house in general has a lovely light, airy feeling and the space is great for our family. The blank canvas it offers enables the whole family to introduce a distinctive and eclectic mix of décor and furnishings. The house has been an inspiration to us.
"This home is an achievement, a milestone and the start of something new and exciting – and who knows where this story will lead."
Chancel Place is a prestigious development situated in the village of Longhoughton – a coastal location surrounded by beautiful scenery. This charming development beat stiff competition to be recently named 'Best Residential Development in Northumberland' at the 2019 UK Property Awards. Chancel Place is open Thursday to Monday from 11am to 5pm. For more information visit www.storyhomes.co.uk.
Mandy has just published her second book which is fiction based on real life and has another one planned as well as a series of children's books. Find out more on her author's page: https://www.amazon.com/author/mandynicholson
Back to comments