Press to interact
with me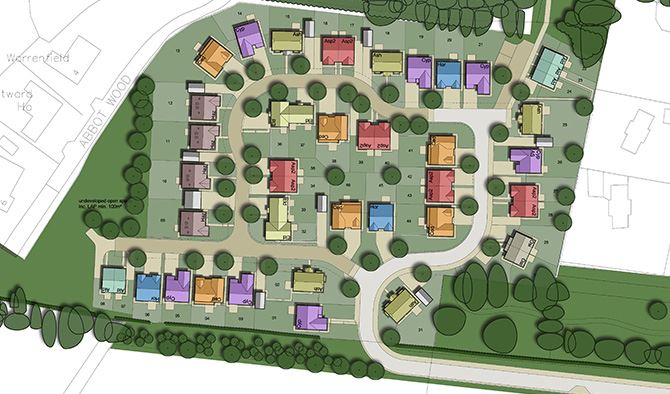 Available
Reserved Homes
Sold Homes
Show Home Locations
Pick your plot

at Mabel Wood

Use this site plan to find your perfect Story home. If there isn't a mark on the one you want it hasn't yet been released for sale – don't worry, you can let us know you're interested by getting in touch using the form below.
Available
Reserved Homes
Sold Homes
Show Home Locations
Great Clifton, and the West Coast in general, have a strong historical past, belonging to Cumberland's former coal mining industry. Indeed the inspiration for the development name 'Mabel Wood' came from the nearby 'Mabel Pit', which is now closed. The village has a church, pubs, a Post Office and a Primary School - Derwent Vale.

The school's most recent Ofsted (2011) reported that it is a good school that is much appreciated by pupils, parents and carers alike, adding that the school is thriving and pupil numbers are rising. A parent commented 'It is a well-run school - staff are very professional but also approachable'.

The Old Ginn House is in short walking distance from Mabel Wood and has been converted from a 17th century farm to a charming village inn, offering home-cooked meals and accommodation. Great Clifton also has sporty connections and is home to local rugby team 'Great Clifton Lions'. Footballer John Burridge grew up here.
Mabel Wood, Great Clifton is now sold out
Transport
Buses
Nearest Bus Stop – Mabel Wood
Nearest Bus Stop – Stainburn Rd
Bus stop
Train Stations
Workington Train Station
Newcastle Train Station
Lancaster Railway Station
Workington Train Station
Wylam Railway Station
Airports
Newcastle International Airport
Glasgow Prestwick International Airport
Manchester International Airport
Newcastle International Airport
Glasgow Prestwick International Airport
Manchester Airport
Ferries
Heysham Ferry
Newcastle Ferry
Newcastle Ferry
Heysham Ferry
Schools & education facilities
Primary Schools
Derwent Vale Primary School and Nursery
Northside Primary School
Westfield Nursery & Primary School
St Patricks RC Primary School
St Marys Catholic Primary School
St Martin`s Pre School Centre
Bowerham Community Primary School
Ridge Primary School
St Bernadette`s Catholic Primary School
St Patricks Catholic School
Northside Primary School
Derwent Vale Primary and Nursery School
Ellel Saint John the Evangelist Church of England Primary School
Newburn Manor Primary School
Throckley Primary School
Walbottle Village Primary School and Nursery
Secondary Schools
Stainburn School and Science College
St Josephs Catholic High School
Keswick School
Lancaster Royal Grammar School
Central Lancaster High School
Ripley St Thomas Church of England High School
Stainburn School & Science College
Southfield Technology College
St Joseph's Catholic High School
Walbottle Campus
Colleges
Workington Sixth Form Centre
Lakes College
Newcastle College
Lancaster & Morecambe College
Lakes College West Cumbria
Preston's College
Universities
University of Cumbria
University of Central Lancashire
University of Cumbria
University of Liverpool
Government
Allerdale Borough Council
Lancaster City Council
Allerdale Borough Council
Healthcare & amenities
Hospitals
West Cumberland Hospital
Workington Community Hospital
Royal Lancaster Infirmary
Cumberland Infirmary
Westmorland General Hospital
Doctors
Beechwood Group Practice
Drs Crosby, Johnson and Schrader
James Street Group Practice
Solway Health Services
Queen Square Medical Practice
Dalton Square Practice
Meadowside Medicial
Central Dental Practice
Beechwood Group Practice
Orchard House Surgery
James Street Group Practice
Galgate Surgery
Newburn Surgery
Dentists
Whitecross Dental Surgery
Washington Square
St Michaels Dental Practice
Kenneth C Archer
Mayo Dental Clinic
Hest Bank Dental Centre
Shimmin & Associates Dental Practice
Bay Dental Partnership
Oasis Dental Care Ltd
Whitecross Dental Care Ltd
The Belvedere Dental Practice Ltd
University Of Lancaster Dental Clinic
Always Smiling Dental Clinic
Newburn Dental Surgery
Shopping
Washington Square
Derwent Howe
Dunmail Park
Metro Centre
St Nicholas Arcades Shopping Centre
Dunmail Park
Workington Town Centre
Canalside Craft Centre
Newcastle City Centre
Newburn Pharmacy
Throckley Post Office
Sports Facilities
Workington Leisure Centre and Pools
Workington Golf Club Ltd
Workington Town Rugby League Football Club
Workington Comets Speedway
Workington A.F.C
Workington Sports Centre
Distington Driving Range & Golf Course
Salt Ayre Sports Centre
Centre for sport & physical recreation
Lancaster Golf Club
Ashton Golf Centre
Vale of Lune R.U.F.C
Lancaster Football Club
Lancaster Tennis Club
Workington Comets Speedway
Workington AFC
Workington Leisure Centre and Pool
Workington Golf Club
Workington Town Rugby League Football Club
Close House Golf Club
Tyne Riverside Country Park
Tyneside Golf Club
Points of Interest
Lake District Coast Aquarium
The Beacon
Saint Bees Head
Mirehouse
Sellafield Visitors Centre
Buttermere & Ennerdale
Borrowdale
Helena Thompson Museum
The Rum Story
Whitehaven Harbour Commission
Haig Colliery Mining Museum
Trinity House Lighthouses
Lakeland Sheep & Wool Centre
Lakeland Heavy Horse Centre
Wordsworth House & Gardens
Honister Slate Mine
Odeon Cinema, Metro Centre
Centre for Life Newcastle
Sellafield Visitors Centre
Buttermere & Ennerdale
Borrowdale
Wordsworth House & Gardens
Honister Slate Mine
Williamson Park
Lancaster Castle
Ashton memorial
Grand Theatre
Lancaster City Museum
Lancaster Catherdral
Ruskin Library
Ellel Village Hall
Galgate Marina
Newburn Library
Tourist Information
Workington Tourist Information Centre
Lancaster Visitor Information Centre
Workington Tourist Information