With Spring approaching fast we have asked Larch Cottage Nurseries to give some advice about planning your new garden in the Spring.
It is the perfect time to let your imagination grow and to start planning your new garden but do take your time. You need to consider how you want your garden to look right through the year and ensure there is always something of interest whatever the season.
A good tip is to think of your garden in different layers; the trees creating the bones of your planting and the smaller shrubs, perennials and bulbs, the softer aspects. Everything needs to be in scale, there is no point planting a tree which will grow over 30ft and eventually overpower all your other plants, blocking light and overshadowing your own house and that of your neighbours.
We would always recommend planting a succession of different trees to ensure you have changing scenes throughout the year, and it is with this approach that your garden will grow into somewhere where you are happy to spend time whatever the weather and whatever the season. And don't forget placement, adopt the rule of thirds – don't place trees or features directly in the centre of your space but take the same feature, place it to the left or right of the centre and see the difference it makes.
At this time of year the blossom of ornamental cherries is a sight to behold and The Prunus Pandora is a lovely small tree with foliage of bronze/red in spring later turning to dark green then on to shades of orange and red in autumn. It is covered in an abundance of pale shell pink flowers throughout March and grows to an eventual height of 15ft, requiring well drained soil and a sunny position.
A similar but upright tree is the Prunus Amanogawa, growing to around 15ft it bears the nicest fragrant, semi-double, pale pink flowers in late spring and again exhibits good autumn colour so providing interest later in the season.  Full sun and well-drained soil.
If your garden needs something smaller then try the Magnolia Loebneri Leonard Messel, this elegant shrub grows a height of 10 – 12 feet and is fully hardy. The large oval deep green foliage sets off the lilac/pink of the star shaped flowers and the fragrance wafts across the garden in the spring breeze.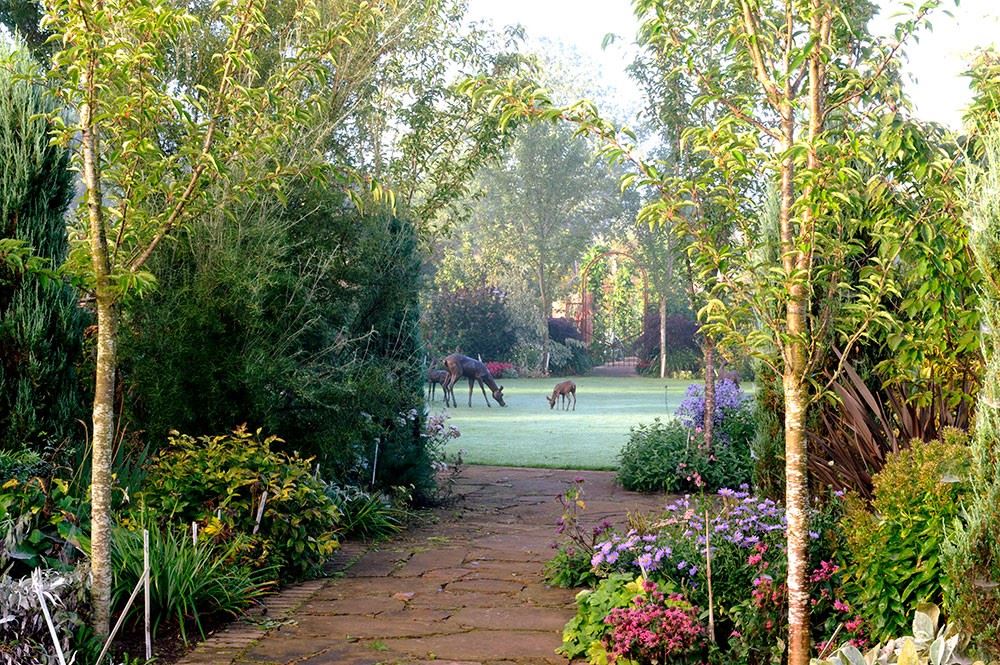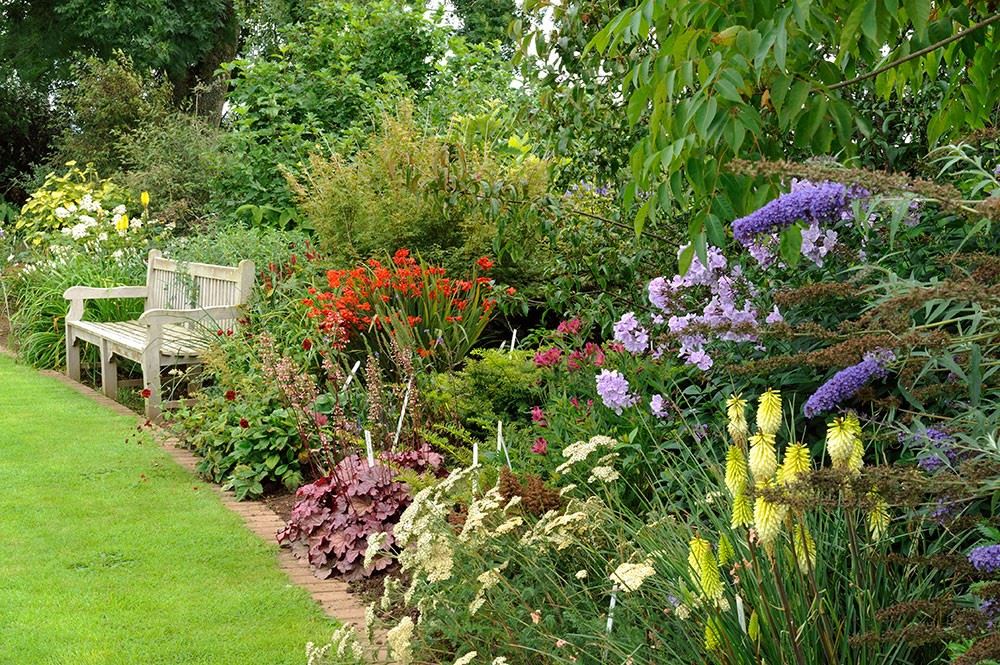 Do your research and choose carefully and once your bones are in place, remember your layers, and look for shrubs which will fill in, grow under and alongside the trees you have chosen. Sarcocca, with their glossy evergreen leaves and masses of highly fragrant tubular-like flowers,  will give your garden a real boost in late winter to spring. Growing to only around 3 ft. they are shade tolerant and not fussy about soil type, so a great addition to any border.
We have now looked at trees and considered shrubs so it's time for perennials. Perfect for filling in spaces in borders where they can be grown with trees, shrubs and bulbs – remember layering!
The beauty of perennials is that they can grow in every situation in your garden. If you have shade or sun, wet or dry soil, there are plants available. Just take note and choose the right plant for the location as they do need the right conditions to thrive.
Plant your perennials in spring, March to early May, while the ground is moist and beginning to warm up. Choose your colours with care and again go for a mixture of early, long and late flowering to give colour throughout the season. If you have planned your garden correctly then once the perennials have begun to die back, the autumn colour of your shrubs and trees will begin to display. Always plant perennials or bulbs in groups of three, five or even seven, but never in even numbers and space the plants according to species/variety. It helps if you think of the planting area as a triangle and put one plant at each point.
Colours, groups and themes, it really is up to you, let your creativity loose, take inspiration from other gardens that you visit, and most of all enjoy. But we cannot re-iterate enough the importance of visiting gardens and garden nurseries throughout the year and over the seasons. Spring obviously brings a burst of enthusiasm to any gardener, but the last thing you want to do is to plant your new garden with plants which only have any interest in Spring. The garden should hold interest and give you enjoyment right throughout the year, and the challenge is to ensure that the plants you choose will do just that.
Never more than in the planning of a new garden is this Chinese Proverb more relevant: He who plants a garden, plants happiness!