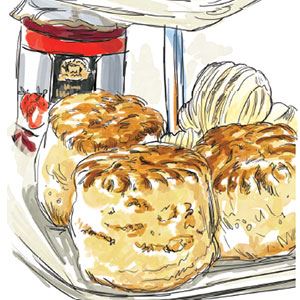 No afternoon tea would be complete without some classic plain scones, served with jam and lashings of clotted cream. This delicious recipe is perfect with Ringtons Strawberry Preserve and a cup of Extra Fresh Tea.
85g chilled unsalted butter and extra for greasing
250g self-raising flour. Plus extra to dust
1 tsp baking powder
2 tbsp golden caster sugar
150ml buttermilk
1 medium egg
Milk
Clotted cream and jam to serve
Preheat oven to 220°C (200°C fan assisted)/gas mark 7. Lightly butter a baking tray.
In a large bowl, rub the butter into the sifted flour until the mixture resembles breadcrumbs. Stir in the baking powder and sugar.
In a separate bowl, beat together the buttermilk and egg. Make a well in the centre of the dry mixture and using a knife, add the wet mixture into the well. Stir all the ingredients together to make a soft dough.
Tip out the dough, lightly knead it on a floured board and roll it out to a 2.5cm thickness. Stamp out rounds using a 5cm cutter, transfer to the baking tray and brush the tops with milk.
Bake in the oven for 15 minutes until well risen and golden. Cool until warm on a wire rack. Serve with clotted cream and Ringtons Strawberry Preserve.