Monday 15 October 2012
Story Homes success at UK property awards
Story Homes has once again excelled at the prestigious 'Gaggenau UK Property awards held in London on Friday night. Our Magellan Park site at Whitehaven won the top 5 star award for 'Best Development' in Cumbria, and Summerpark in Dumfries received a 'highly commended' award, continuing its success in these awards over the last five years.
Magellan Park will be familiar to many following the ITV4 documentary that challenged 22 'Rookie Builders to build a detached 4-bedroom luxury home in less than a year. The site remains popular with an eagerly awaited new release being made at the end of October. Magellan Park has only being ongoing for two years, yet this is the second year that it has won a UK Property award which is a great achievement for a new development. Magellan Park offers a variety of top-quality three and four-bedroom homes beautifully laid out on the elevated site overlooking the Irish Sea to the west and the Lakeland peaks to the east.
Summerpark in Dumfries also won an award for the fifth year running being 'highly commended for the executive scheme at the same ceremony. Added to this the development has won Scottish Home awards for the last three years. Summerpark is ideally located on the outskirts of the town and will eventually realise around 900 properties – the largest housing development to date in Dumfries.
Judging for the UK Property awards was carried out through a meticulous process involving a panel of over 60 experts covering every aspect of the property business. The next stage of the awards programme is for top scoring five-star winners of each category (including Magellan Park) to be re-judged against those from the other regions to determine the ultimate Worlds Best winners. These will be announced at the grand final to be held at the Grosvenor House Hotel, Park Lane, London on Friday, December 7th.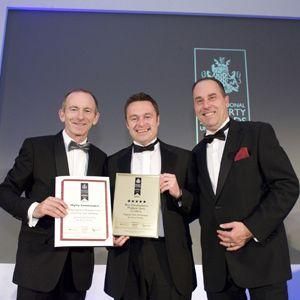 Share
Back to news