Monday 16 June 2014
Work starts on first Story Homes development in Kendal
A new housing development in Kendal is now underway.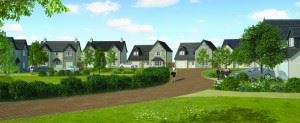 Work has started on site at Story Homes' development beside Natland Road in the town. Enabling works including drainage and sewer diversion are taking place before building work begins in the Summer.
Story Homes is building 76 new homes on the 4.8 hectare site to the south of Kendal. The mix of 2, 3, 4 and 5 bedroom properties  will bring much needed new housing to the area, including 26 properties designated as 'affordable' for the local community.
The development, to be known as 'The Beeches', has been designed in keeping with the local area, using a mix of render and local limestone.
Story Homes is well known elsewhere in Cumbria but The Beeches will be the company's first ever development in the South Lakeland District area.
Story Homes, founded by businessman Fred Story in 1987, has a reputation for building high quality and high specification homes, using local materials and employing local people including sub contractors, wherever possible.
Steve Errington, Chief Executive of Story Homes said: "This is our first development in the south of the county and interest in The Beeches has been high since we first revealed our proposals last year. As well as bringing high quality housing to Kendal, our development will create jobs and opportunities for local subcontractors and the supply chain. We are looking forward to showing the community the quality of our homes as this development progresses."
A sales presence is expected on site in September 2014 and the mailing list of interested customers has been growing since planning permission was granted by South Lakeland District Council in November 2013.
Story Homes has recently received an industry award for customer satisfaction. The House Builders Federation (HBF) awarded Story Homes '5 Star' status, scoring them higher than many national competitors.
To join our mailing list for The Beeches click here.
Share
Back to news