Wow, the waiting list for information is growing daily!
September 2013
We can't believe how fast our mailing list for Lancaster Moor is growing! So many of you have been in touch asking about the site and when they can expect to hear more. We are adding names to our mailing list and information will be sent out in the next few weeks. Anybody on the mailing list will get exclusive information and an opportunity to see the house types and availability before anybody else. To get your name on our mailing list email sales@storyhomes.co.uk or visit the 'coming soon' page for High Wood on our website.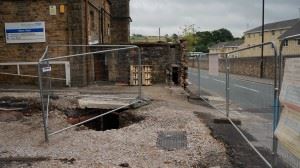 What can you see on site at the moment? We have been working on improving the junction on Quernmore Road. Installing and upgrading the infrastructure to the site makes it safe for us to start bringing materials and machinery onto the site ready for build work to start. We are also putting in new drainage connections to get the site ready for our beautiful new homes. Check out the pictures of the work on the junction so far.
Story Homes