12 moves, 16 years and finally their own home
December 2016
Janene and Jimmy Scott moved into their first home just in time for Christmas, and on their 16 year wedding anniversary.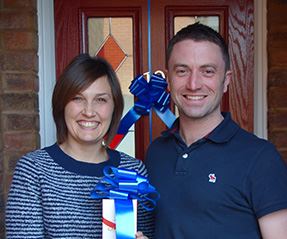 Jimmy works for the army, and in the last 16 years the couple have moved 12 times.
The Scott's took advantage of both the Government Help to Buy scheme and the Armed Forces Help to Buy initiative to get a foot on the property ladder.
Jimmy is currently based in the Midlands and the children attend the MOD run boarding school in Dunblane. The drive from Stafford to collect the children was taking up to eight hours which was the straw on the camel's back. It was time to set up base camp, and buy their own home.
"When we were house hunting we looked all round the area at all sorts of different houses. We've got friends in Dumfries and they recommended we take a look at the homes in Summerpark" said Janene.
She continued "It was a done deal really when we did. The homes are finished to such a high standard, and the quality throughout is excellent. As Jimmy will still be travelling quite a bit, not having any DIY to do is brilliant.
Jimmy went on to say: "Finally, we have our own home, after all this time. It's going to take some getting used to! It couldn't have been easier though. The Help to Buy scheme is excellent and Ann and Fee our Sales Executives ensured it was a very smooth process."
Sales Manager Susan Pollard said: " It's such a pleasure helping a family buy their first home and living at Summerpark is going to improve the time they spend together as a family – the location is spot on for them."
Summerpark is an exclusive development of 3 and 4 bedroom high specification homes in Dumfries. If you wish to find out more about the advice day please call our sales team on 01228 404550 or email sales@storyhomes.co.uk