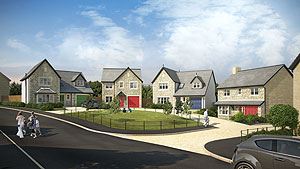 The development by Cumbria-based Story Homes on a 31-acre site next to the new Shotley Bridge Hospital includes a wide range of properties, from two-bedroom apartments to five-bedroom houses. It will also offer 60 affordable homes, half of which will be to rent and the other 30 being discounted in perpetuity to help local people own their first home. It is expected that the first phase of properties will be released for sale in May 2012.
Story Homes calculates that around 75 new jobs will be created, in addition to fresh work for suppliers and service providers in and around County Durham via the supply chain.
It is the first venture into County Durham by award-winning Story Homes, whose headquarters are in Carlisle. The independent house-builder, which celebrates its silver jubilee this year, was named the Best Developer in the UK last year.
Chief executive Fred Story said: "We have earned a proud reputation for building top-quality homes offering real value-for-money over the last quarter of a century throughout Cumbria, Lancashire and South West Scotland.
"The Shotley Bridge development is a really exciting new landmark for us. It is our first move into County Durham and only our second scheme in the North East, following the hugely popular Hadrian's Rise development at Haltwhistle in Northumberland. We are now looking forward to creating a superb new development of Story Homes properties for the people of County Durham and beyond."
The site has good road communications and is located on the eastern outskirts of Shotley Bridge with stunning views over the Derwent valley, framed by river valleys and woodland – hence the development name 'The Woodlands'. The site has the potential for high levels of connectivity to an existing network of footpaths and cycle ways.
The 2, 3, 4 and 5-bedroom properties on this scheme will reflect the local area, incorporating high quality brick and buff stone and complimented by a mid-grey slate roof covering which is a feature in the town already. The differing house types and finishes provide a unique character. Story Homes is renowned for creating aesthetically pleasing street scenes and for delivering successful community focused developments.
Story Homes beat off competition from some of Britain's biggest house builders to be named Best Developer in the UK in the 2011 Premier Guarantee Excellence Awards last September. This was in recognition of the quality of its housing at new sites in Dumfries and Lockerbie.
The company has also won a national award for its development at Magellan Park in Whitehaven, which will feature in a television series on ITV4 starting on March 19 showing how a team of newly-recruited apprentices met the challenge of building a four-bedroom house on their own within a year under Story Homes' supervision.
Mr Story added: "The construction sector has been going through an incredibly tough period and nowhere more so than house building. But as a company we are demonstrating that if you maintain your standards and refuse to compromise on the service you provide to your customers, you can still succeed."
The Shotley Bridge development will consist of 12 two-bed apartments, 66 two-bed houses. 59 three-bed houses, 94 four-bed houses and nine five-bed houses.
Cllr Clive Robson, Durham County Council's cabinet member for housing, welcomed Story Homes' development at Shotley Bridge. Cllr Robson said: "This is an exciting time for Consett and the surrounding area, with a number of key developments taking off and I am delighted to see this one moving forward. I am particularly pleased to welcome the additional number of affordable homes which will make a significant contribution towards the council's overall target for the county."
His comments were backed by Gill Hay, area manager at the Homes and Communities Agency, whose predecessor, English Partnerships, handled the disposal and development of redundant NHS sites. She said: "It is great to see this scheme start on site to provide much needed housing for Derwentside.
"The high levels of affordable homes will mean that local people will be able to live in the house they want and still stay in the community. I look forward to coming back to see the first home completed in the next few months."
To register your interest about the Shotley Bridge site, call Story Homes on 01228 404555.