Kayleigh Pinchen, Sales Executive at our Fallows Park development at Wynyard, gives an insight into what her role can involve day-to-day…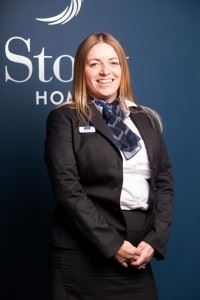 10.00am – I arrive at work and open our two show homes. While doing this, I check that every room is inviting for clients; this can include everything from rearranging cushions to changing light bulbs. The show homes are the first thing that a potential buyer sees so it is important that they are of a high standard.
10.30am – It's Thursday, which is our first day back as we are closed on Tuesdays and Wednesdays. I head along to site for our Thursday meeting with the Site Manager. We discuss clients' options, ongoing customer service, upcoming plot completions, and make arrangements for Home Demonstration appointments.
11.00am – We are now open and the first clients have arrived. They are looking at our five-bedroom Westminster property and have a house to sell. I explain to them that we have a Part Exchange scheme, and how it is a great incentive as you have a guaranteed buyer, estate agency fees are paid and you get to stay in your current property until the new home is complete. I show the clients around, demonstrating the benefits of buying new and running through our high specification. Once back in the office, they watch the fly through video of the Westminster on our website, and decide they would like to look at doing Part Exchange. Paperwork is completed and sent off for valuations.
12 noon – One of our clients is due to complete next week so they have an appointment with the Site Manager and me for their Home Demonstration. This is the first time the clients are getting to see their new home. It gives us an opportunity to show them things such as how to use the heating system as well as answer any questions. They go away feeling excited about moving in next week, and this is one of the best parts about my job.
1.30pm – Back to the Marketing Suite and it's time to follow up with some clients who visited us last weekend. A couple who are first-time buyers said that they loved the development and the finish of the properties and would like to proceed to reservation. I book an appointment with our recommended financial advisor, and they are told over the phone that they are able to reserve their chosen home using the Help to Buy scheme. I book an appointment for Saturday morning to complete reservation paperwork with them.
2.30pm – I have a catch up over the phone with my sales and marketing colleagues in the office about arrangements and incentives for our upcoming winter event, Festivities at Fallows Park, which I am really looking forward to.
3.00pm – Time to catch up on emails and prepare paperwork for the reservation appointment on Saturday.
4pm – My final task of the day is to check the progress of ongoing reservations. I make calls to solicitors and financial advisors and confirm that all are going smoothly.
5pm – Once I have closed the show homes it's time to head home. On the way home I do a quick check to ensure that our advertising boards are all correct and presentable.
To find out more about living at our exclusive Fallows Park development, come along to our Festivities at Fallows Park event on Saturday 18 and Sunday 19 November between 11am and 4pm. You will be able to take a tour of our show homes, speak to our Sales Executives and a financial advisor, and learn about the incentives available over a mince pie and glass of mulled wine.
For more information, contact Kayleigh on 01740 645124 or email fallowspark@storyhomes.co.uk.