Buying a show home will provide the perfect solution to Jayne and Daniel Scott of Kendal.
The couple are successful business owners and lead busy lives, so when they were looking for a brand new home, they knew they didn't want to spend a lot of time carrying out DIY or decorating.
After visiting The Beeches, the new Story Homes' development in Kendal they fell in love with the show home as it ticked all the boxes in their search for their new family home. Jayne, 45, and Daniel, 43, run their busy training business from home so they wanted a house which was not only spacious enough to enjoy with their seven year old son, but would provide sufficient office space for them both.
Linda McNally, Story Homes' Sales Executive was more than happy to help them in their search for the perfect home: "Jayne and Daniel visited our development and straight away they knew they wanted a five-bedroom 'Westminster' house, as it's just perfect for them. When I told them that they were able to buy a readymade home, the show home which is a Westminster, they were so excited – even though they would have to wait a while before moving in."
Jayne said: "We chose The Beeches as it's close to the town centre but still has a pretty rural feel to it. We wandered around the development, initially looking at another plot, but we kept coming back to the show home: we just loved it! Linda explained that if we were willing to wait, we could reserve the show home and we just jumped at the chan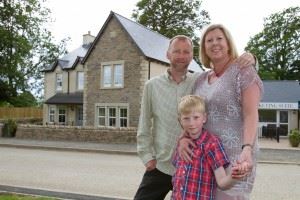 ce.
"The house is amazing. We feel the kitchen family dining area is a fantastic space which will enable us to be together more as a family and the plot is just perfect for us. The garden is huge which will be brilliant for Jamie to let off steam in – we may even build a tree house for him, which is every little boy's dream!"
As the show home is still being visited by Story Homes' customers, Jayne and Daniel will have to wait until December 2015 before they can move in. However, this didn't deter the couple and they can't wait to move in now: sneaking the odd visit every now and then to their prospective new home.
Jayne said: "Initially, we didn't visit for a while and then one day we thought we would drop in and see Linda and to have another look at our beautiful new home. It really is lovely, every room is stunning and the designer has made a fantastic job of the interior. We love everything about it and are hoping to even buy some of the furniture. The best part for Daniel is that he doesn't have to put up curtain poles – he hates doing that job!
Jamie is really looking forward to the move now and loves the idea of having his own playroom to invite his friends over. We've already met some of the families who are moving into the development and I'm sure Jamie will have no shortage of new friends.
"All in all, the house is a readymade home for us to move into which we can enjoy straight away."
Story Homes will be bringing more high-quality homes to the area as it recently received outline planning permission to build up to 105 new homes at the Kendal Parks site.