An interview with James Martin
December 2015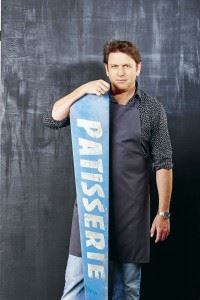 We talk to one of the nation's best-loved chefs about his new book, Sweet, and forthcoming TV series, Home Comforts.
What/who inspired you to become a chef – and a pastry chef in particular?
Ever since I watched my grandparents making pastry I've wanted to cook; that was when the seed was first planted. As a young lad entering kitchens at the age of 17, pastry wasn't really what I had in mind at the time, but fate intervened: the pastry chef went to the loo, never to be seen again. And so after only three days I was on the pastry section, becoming head of it within four months.
Back then, no-one wanted to work on the pastry section; to some, it wasn't seen as manly enough and you work longer shifts than anyone in the kitchen. It never bothered me. What I did discover was that when you're working with the best, you absorb everything like a sponge and so all those hours paid off. I remember Pierre Koffman telling me why chefs need to concentrate on the pastry section: it's the last food you taste before you leave the restaurant, so it needs to create a lasting impression.
The nation's obsessed with baking, cakes and puds! What's the secret to making a great dessert?
The art of baking isn't a science- it's one of knowledge and practice. It's all about understanding the basics and knowing why things do what they do. There are several basic recipes and techniques that form the foundation of many desserts such as pastry, sponge and meringue and mastering these will help you create better desserts.
What has inspired you to put a new focus on desserts in your latest book?
It's only when you sit down to write a book that you get a chance to share all the recipes, tips and advice you've picked up along the way?
It's now almost ten years since my first desserts book came out and I'm really proud when I hear of young chefs using it as a guide to baking and pastry. With this book I wanted to take things further, to show how my cooking has evolved and how much I have learned – and am still learning – from the great chefs I'm lucky enough to meet.
Making pastry can seem daunting to the novice, but can anyone pick it up?
As a young kid, I'd watch my gran rubbing butter and flour together in a bowl balanced on her knees while she watched a whole episode of Coronation Street.
Her pastry was better than any pastry I've ever tasted since – and that's down to the way the fat was incorporated into the flour.
Anyone can master the not-so difficult art of pastry-making by understanding the importance of each step. The best way to get that crumble-in-the-mouth texture is to do it by hand rather than in the machine and resting the pastry in the fridge is also important.
The latest series of Home Comforts is again filmed from your home and airs in January. Who can we expect to see in the series – and in particular, your Christmas show?
Sir Stirling Moss, Michael Parkinson, Mary Berry, Mark Webber and Alex Jones will all be making an appearance.
What are your own personal home comforts – the things that make your house a home?
I like my house to feel lived in – I'm not in to three twigs in a vase, I like things in my house. Also my collection of cars, they all have a memory of the places I've been.
How will you be spending Christmas Day?
I'll be at home on Christmas Day cooking for my family. I don't do turkey though, a nice roast with all the trimmings, pork with crackling and beef and then we'll eat the leftovers the next day.
What's in store for you in 2016?
Keeping as busy as I have been in 2015! I've got something special coming up next year. I've been doing this for 20 years now and feel it's time for me to do something a little different. I'm going to be going out on the road next year, from February. I'm planning a brilliant live show, called Plates, Mates and Automobiles which I can't say too much about just yet, but it's going to be great fun and I'm taking it all over the UK. I may also have another restaurant in the pipeline so watch this space.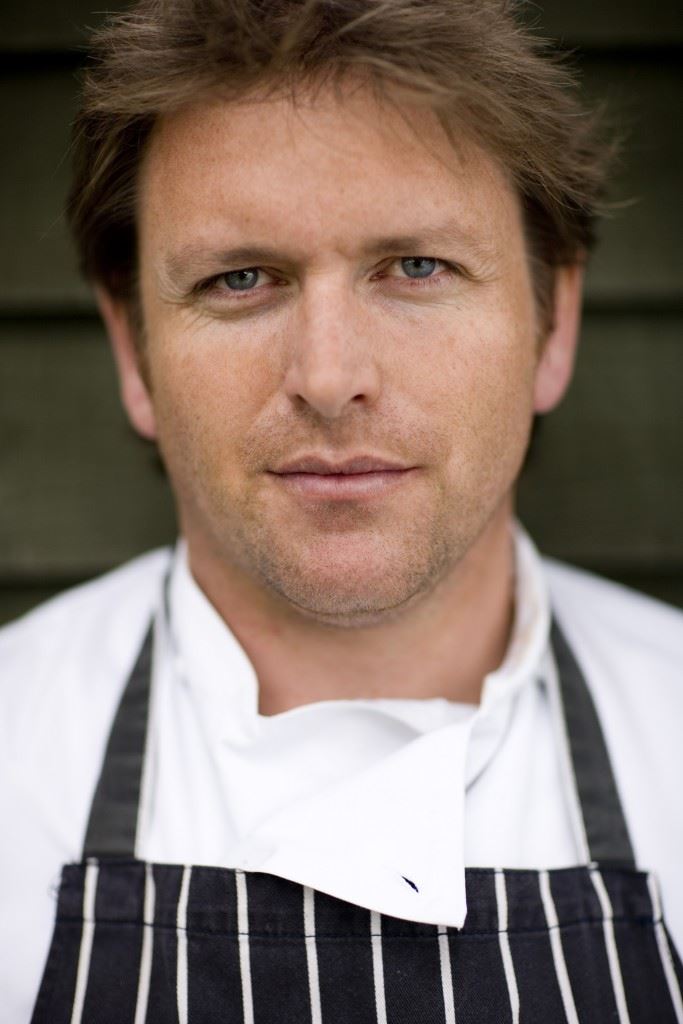 CHOCOLATE HAZELNUT DACQUOISE WITH FIGS
This tasty dacquoise recipe is from James's new book, Sweet. It's best to make this dessert ahead of time and leave it in the fridge for a few hours, so the meringue softens a little before serving.
Ingredients
10 egg whites
275g caster sugar
50g cocoa powder
250g ground hazelnuts
FOR THE FILLING
750ml double cream
11⁄2 tbsp vanilla bean paste
75g icing sugar
10–12 figs
TO DECORATE
Twisted willow, or other decorative twigs
Sugar spiral (optional)
Preheat the oven to 180°C/350°F/Gas mark 4 and line 2 baking sheets with silicone paper. Draw a 23cm circle on each sheet of paper, then flip them over.
Make sure your bowl and whisk are very clean, free of grease and dry, as any water or grease will affect the meringue.
Place the egg whites in the bowl and whisk with a food mixer or an electric whisk on high speed to soft peaks. Add the sugar, a spoonful at a time, whisking until the mixture is smooth and glossy.
Sift in the cocoa powder and whisk until combined. Fold in the ground hazelnuts, taking care not to knock the air out of the meringue. Spoon into a piping bag fitted with a 1cm plain nozzle. Lift the paper up and pipe 4 blobs on the corner of each tray then press the paper onto them to stop it moving.
Pipe concentric rings to fill the circle on each of the lined trays. Next, pipe 6 small discs around the trays (you will have some mixture left over). Bake for 15–20 minutes until golden and just firm to the touch. Transfer to a wire rack to cool completely.
Meanwhile, whisk the cream, vanilla bean paste and icing sugar together until you have firm peaks.
Place one of the meringue discs into a 23cm metal ring on a cake stand or serving plate, trimming it if necessary, then spread a layer of cream 1cm thick on top. Cut 10 figs in half from top to bottom. Place these upright into the cream around the edge of the ring, cut side facing out. Continue all the way around until you have made a border of figs around the edge of the cream. Fold the small discs of meringue into the remaining cream, along with 2 quartered figs. Pile the cream into the centre, pressing it lightly so that it holds the figs in place against the ring.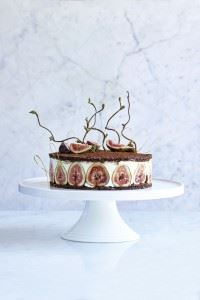 Place the second meringue disc on top, trimming if necessary, then press down lightly. Lift the ring off the dacquoise. To help you do this cleanly, warm the ring very quickly with a blow torch, or dip a cloth into hot water and run it around the ring.
Decorate with twisted willow and fig wedges and a sugar spiral, if desired.
Sweet by James Martin is out now, with Quadrille Publishing, £20WORTH
Photography: Peter Cassidy