Annual awards recognise Story Homes' stars
May 2017
It's been another busy year at Story Homes! Our ambitious 2016-2017 plan delivered a 43% increase in growth and we have built more than 800 new homes across Cumbria, South Scotland, the North West and North East. We've welcomed 196 new employees including 10 apprentices and two graduates.
To recognise our achievements and successes, more than 350 Story Homes colleagues, their partners and subcontractors from across the North of England and South Scotland joined forces to attend our fifth annual STAR awards held at Eden Golf Course, in Carlisle, on Saturday 20 May.
More than 130 colleagues from across the group were nominated for a number of awards including innovation and improvement, leadership, health and safety, external partner, unsung hero, team work and the coveted STAR award. These awards highlight members of staff who had gone above and beyond. The winners, who fought off stiff competition on the night were:
• Health, Safety & Environmental Award – D'Urton Manor, Preston, Lancashire
• Quality Award – Crindledyke Farm, Carlisle, Cumbria
• Customer Service Award – The Ridings, Carlisle, Cumbria
• Innovation and Improvement – Group Design Team
• Leadership – Jim Robison, Site Manager, Summerpark, Scotland
• Unsung Hero – site based – Jamie Sparkes, Crindledyke, Cumbria
• Unsung Hero – office based – Customer Service Advisors – Anees Siddique and Laura Palmer
• Teamwork – site based – Pentland Reach, Biggar, Scotland
• Teamwork – office based – Group Strategic Land
• External Partner – iD Geoenvironmental Limited
• STAR Award – James Irving, The Ridings, Cumbria
Here are some of our winners:
Steve Errington, Chief Executive said of the awards: "This was a great opportunity for all of our teams to get together to celebrate their success from last year and recognise the hard work, commitment and determination they have shown. This is the first time all of our regional staff and group teams have been together and it was wonderful to see our colleagues attend our annual awards event.
"It was really difficult to single out winners as we had so many nominations from across the group. Everyone who was nominated were all deserving and congratulations to our winners.
"We've delivered an ambitious plan and this will continue in 2017-2018 with 27% growth expected and a landmark 1,000 new homes. We will recruit 56 new employees including 12 apprentices and four graduates.
"I am so proud to be working with such as fantastic team here at Story Homes. Each and every team member takes quality, customer excellence and teamwork very seriously and I am excited about what we can achieve in the coming years thanks to these values we all hold."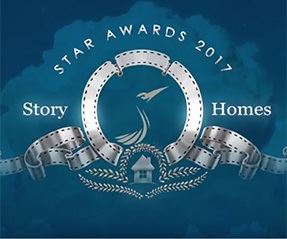 Watch our video celebrating our achievements throughout 2016/17.
For more information about working for Story Homes click here.