Budding interior stylist works on new show home in Lazonby
January 2015
Schoolgirl Emma Cannon of Lazonby feels like she's on her way to pursuing her dream job.
Although she's only 14, Emma felt so passionate about following a career in interior design that she arranged her own work experience placement. Working alongside nationally renowned interior stylist, Suzanne Webster, Emma spent a day 'dressing' a brand new show home for Story Homes at The Meadows development in Lazonby.
Suzanne who works as a consultant for Story Homes, can also count Next, Harpers Bazaar and Cosmopolitan amongst her clients. Today's task was to turn a 4-bedroom detached 'Arundel' house into a desirable, cosy home. Under Suzanne's guidance and expertise, Emma certainly played her part in a successful outcome and the day was granted a success by all.
Emma, a student at Ullswater Community College, Penrith, says of the challenge: "Today has given me great experience and has just reinforced how much I want to become an interior designer.
"I would love to help out on some other Story Homes developments in the future. I read a lot of magazines and keep up-to-date with trends and layouts. We have an artistic family and I'm doing art at school which I think will help with my chosen career path. I'm doing more work experience in July and my sewing skills should come into use there."
After a busy day, Suzanne had nothing but praise for Emma: "I have really thrown Emma in at the deep end today but it will give her an idea of what it's really like to work as an interior designer. Emma has coped really well and I'm pleased that she wants to pursue a career in interior design."
"I have spent some time giving Emma some hints and tips and explaining the thought process behind the design of the show home. I worked with Story Homes to loosely decide a theme for this house and I took my inspiration from the red bricks used in the build. I have brought that out through using colours like beige and terracotta and copper, warmer colours, inside."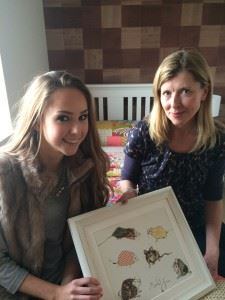 The Meadows in Lazonby is a high quality development offering 2, 3 and 4-bedroom high specification properties to the market. The Arundel show home is now open: for more information about The Meadows click here or ring Diane 07811985889