Caldew School pupils grow garden plans with soil delivery
July 2014
Caldew School vegetable garden has been given a new lease of life this month.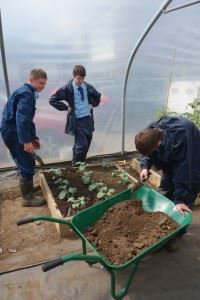 The garden, used by a class of seven BTEC Land and Environment pupils, received a delivery of topsoil to rejuvenate the vegetable patch and raised beds.
Along with Science Technician Clive Richardson, the fourteen year olds are growing a range of produce to sell to staff and pupils at Caldew School, recovering their costs and reinvesting profit back into the garden.
Two loads of topsoil were delivered by Story Homes and taken from the nearby 'The Grange' development in Dalston. Story Homes is working on site there, building 121 new homes in the village.
George Barclay, Teacher of Agriculture and Biology at Caldew School said: "Staff at Story Homes have been very helpful and accommodating by donating the soil to use and delivering it too. The soil will really help the pupils to expand their project and grow a wider variety of vegetables in the rejuvenated garden."
The pupils currently grow potatoes, onions and root vegetables. With better quality soil they hope to expand this next year to grow a range of brassicas and sweetcorn.