Story Homes was the main sponsor at the Carlisle Skills Fair event which took place at The Sands Centre on Thursday 28 January. The event, which was hosted by Carlisle MP, John Stevenson, was aimed at those looking for career advice and many of our staff were in attendance offering helpful hints and tips to visitors.
Fifteen year old Ellis Dickinson who is a year 11 pupil at the Richard Rose Morton Academy in Carlisle was one of a number of enthusiastic young people to visit the Story Homes stand on the day. He said: "I came along to the Skills Fair with my school to look at career opportunities. I had already applied for the Story Homes apprenticeship scheme and had a successful telephone interview but I wanted to speak to some of the staff and find out more about the company.
"Hopefully it will prepare me for the next round of interviews for the apprenticeship scheme. I really want to be a bricklayer as I love working outdoors and I think it will be a great opportunity for me to learn a new skill and earn money at the same time."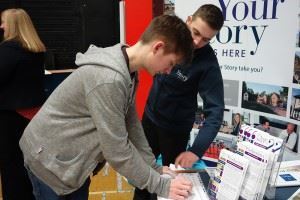 The fair was well attended with around 90 other employers and training organisations exhibiting. The team from Story Homes were kept busy with many people asking for advice and information on the wide-range of career options available within the company. They also held a number of masterclasses in CV Writing and Interview Skills throughout the day which proved to be popular.
Shelley Hayward, Talent and Development Manager at Story Homes said: "We attended the Skills Fair last year and as a direct result, we recruited bright, young apprentice HR Advisor, Emma Chalmers. Emma was just 18 when she joined us and fresh out of sitting her A Levels but always knew what direction she wanted her career to go in. It's been lovely to watch Emma flourish and grow in confidence over the past year and she's a real asset to our team here at Story Homes.
"To coincide with the Skills Fair we have also launched our next exciting apprenticeship scheme and will be working with schools in all of our regions."
To find out more about working for Story Homes, click here.