Double celebration at top residential property awards
January 2017
We've kicked off our 30th anniversary year with a double celebration at the North West Insider property industry top awards ceremony.
We scooped two awards and were named Housebuilder of the Year at the North West Insider Property Awards in Manchester on Thursday 26 January, with judges saying: "As Story Homes continues to grow, it was hard for our judges to look past the company's breadth of high-quality schemes across the region."
Taking another top accolade for the evening was our founder and Chairman Fred Story, who launched Story Homes in 1987, receiving Property Personality of the Year. Judges said: "With a career in property spanning 30 years and a spell in football, judges hailed Fred Story as the "man of the match" on the night. Fred Story founded Story Construction Ltd in 1987 after cutting his teeth as an engineer and contracts manager with two Carlisle-based companies. He's had an illustrious career that has also taken him outside the property sector, with a spell as the owner of Carlisle United from 2004 to 2008. Today Story Homes has ambition to become one of the top 25 UK housebuilders".
Speaking after the ceremony, Fred Story said: "What an outstanding achievement to win Housebuilder of the Year at the start of our 30th anniversary year. We are celebrating the commitment of our hard-working team who deliver exceptional high quality homes throughout the North West whilst delivering excellent customer service.
"This cements our commitment to the North West and our ambitions to expand in to Cheshire, South Manchester and Merseyside".
Fred joined Insider's editorial director Miri Thomas on stage for an exclusive interview reflecting on his 30 year career spanning not only property but football too.
"It's been great to reflect on the last 30 years with Miri, to focus on our future and discuss the challenges we face in the housebuilding industry. We've got ambitious growth plans across the North West and it is great to share those.
"It was an honour to receive Property Personality of the Year and what a way to start our 30th year in the business. The credit really does go to my family and all the staff who have worked with me both in the past and present."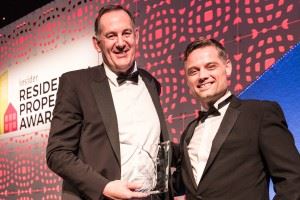 Joel Durkin, features editor at North West Business Insider said on Fred winning Property Personality of the Year: "Insider consulted with our judges and with respected figures in residential property for this award. The judges were looking for the person deemed to have made the biggest difference to the residential property industry by leading from the front."
This success follows on from the UK Property Awards where we scooped three awards. The company also retained its Home Builders Federation (HBF) 5* customer satisfaction rating for the third consecutive year.