Financial expert recruited to Story Homes
July 2014
Story Homes has recruited one of the region's leading financial experts to further strengthen its management team.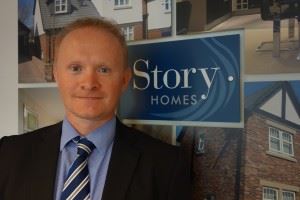 Stuart Marshall has joined as Finance Director bringing with him considerable experience at the highest level. He said: "I am delighted to join Story Homes as I am attracted to brands which have an entrepreneurial spirit and deliver an aspirational product.
"Fred Story created a company where everyone takes a great pride in the quality of what is produced and Story Homes is growing at an impressive rate under its Chief Executive Steve Errington. This job opportunity coincided with a time I felt right for a new challenge for me professionally. As Financial Director in Story Homes I am expanding my role within a large company, overseeing HR, Health and Safety, and  IT Systems in addition to my core finance role."
Stuart is originally from Central Scotland but has lived in Hexham for the last 32 years. He spent 12 years in accountancy practice in auditing and corporate finance latterly with RMT Accountant and Business Advisors
Deciding he needed to change direction Stuart left the firm to join Newcastle's Fluid Group, which was owned by two strong entrepreneurs, working in the Leisure sector, as their Finance Director.
He worked at the company from 2004 to 2006 during a period of rapid expansion before joining NOVA international who own the Great North Run.
Stuart said: "I worked with Nova for 7½ years who provided me the opportunity to greatly expand my commercial experience by managing multiple areas of the business in addition to Finance. It was a varied and challenging role, working with a successful North East, marketing-led, brand with a portfolio of some of the highest profile mass participation events in the world driven forward by a great marketeer in Brendan Foster."
Stuart decided he wanted a new challenge earlier this year and joined Story Homes as Finance Director. He said: "It is very exciting to be part of a team that's going to drive this business forward at a fast pace.
"Story Homes has a very strong business plan and a goal to become a national brand. This provides a great challenge and opportunity for me. In the next five years, Story Homes should be in the top 20 of the country's house builders. This goal is based on a business plan which is managed by a first-rate team, led by a strong chief executive and supported by a visionary Chairman and I'm really excited to be a part of it."