Fundraising takes off at Story Homes
May 2016
Employees at Story Homes have pledged to raise £10,000 for the Air Ambulance as the housebuilder announces its charity of the year for 2016.
All funds raised will be split equally between the Great North Air Ambulance and the North West Air Ambulance. Colleagues will be encouraged to undertake a wide range of activities and have many plans already in the pipeline including a Story Ryder Cup, Football match, Zip wire across the Tyne, Race Day and lots of cake-eating.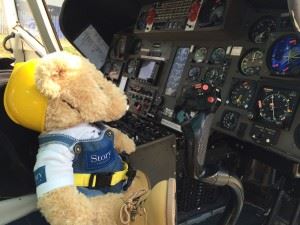 The team recently visited the air base at Langwathby, Cumbria with their popular 'Builder Bear' mascot and met Miles the Pilot Bear who showed them round and introduced them to the team. The charities provide the rapid pre-hospital care needed to make a life changing difference. Whether it's in a city centre or a remote mountain, medics respond to wherever they are needed in the shortest space of time with the helicopters being never more than a 15-minute flight from the nearest hospital.
Ian Story Managing Director of Story Homes says: "It's really important to do the 'right thing' and in order to raise much needed funds for a worthy charity, such as the air ambulance, I will be wholeheartedly supporting my colleagues – perhaps even taking part in the zip wire off the Tyne Bridge! We are all looking forward to the exciting plans we have in place to fundraise in challenging, fun and enjoyable ways for this commendable cause."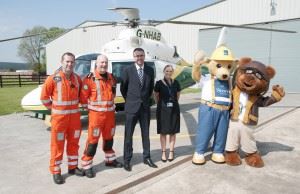 Mandy Drake, head of fundraising at the Great North Air Ambulance said: "It was great to have Builder Bear and some of the team come down to the base and find out more about what we do. By working in partnership with us, Story Homes can help ensure we continue to operate our helicopters, flying 365 days a year providing emergency medical treatment when saving time is critical. Our aircraft carry both a doctor and paramedic. Our doctors have the ability to anaesthetise a patient as well as administering blood if required. We can conduct life-saving surgery in the air whilst on the way to the hospital, essentially bringing the operating theatre to you."
The charity receives no government, statutory or national lottery funding and is entirely dependent on gifts received from members of the public, companies and grant-making bodies to keep the Air Ambulance flying and saving lives.
To keep the air ambulance flying they need to raise £4.5 million every year.