Future football stars attract Story Homes as new sponsors
February 2016
A North Tyneside football club has thanked housebuilder Story Homes for giving it the financial means to offer coaching and fun to young people in its community.
Kevin Anderson, the coach of Cullercoats Football Club's under 9s team, hailed the firm's sponsorship and said its support allowed more young people in the area to access football.
The Community Amateur Sports Club's under 9s team strip now proudly bears the Story Homes logo and name, and the financial backing means Cullercoats' organisers can subsidise the cost of equipment.
Kevin, who leads a team of qualified coaches, said: "We were about to start the search for a sponsor when Story Homes stepped up and immediately offered their support. I was thrilled they were so keen.
"Our aim is to offer football to as many people in the local community as possible, and to us, that means keeping the costs down. Every penny the club gets is invested, and if we have £10 in the bank account, we'll find a piece of equipment for that value.
"Being part of a club and playing football means an awful lot to these kids, and by coaching we can not only help them to enjoy the game but to build the confidence and skills that athletes need.
"We also try to invest in the parents and, for them, the club has to be social a activity."
Last year Cullercoats Football Club celebrated its centenary year. The club encompasses 21 teams, and the under 9s unit was formed in the summer. So far the under 9 team has 16 members – a mixture of boys and girls all from the same school year.
Kevin said the ambition is to build the team – which currently plays 7 a-side matches – into 24 members and two teams.
He added: "The whole reason we exist is to give young people – girls and boys – the chance to experience football. All of our players have the opportunity to develop and many of them may even progress to our senior team in ten or twelve years.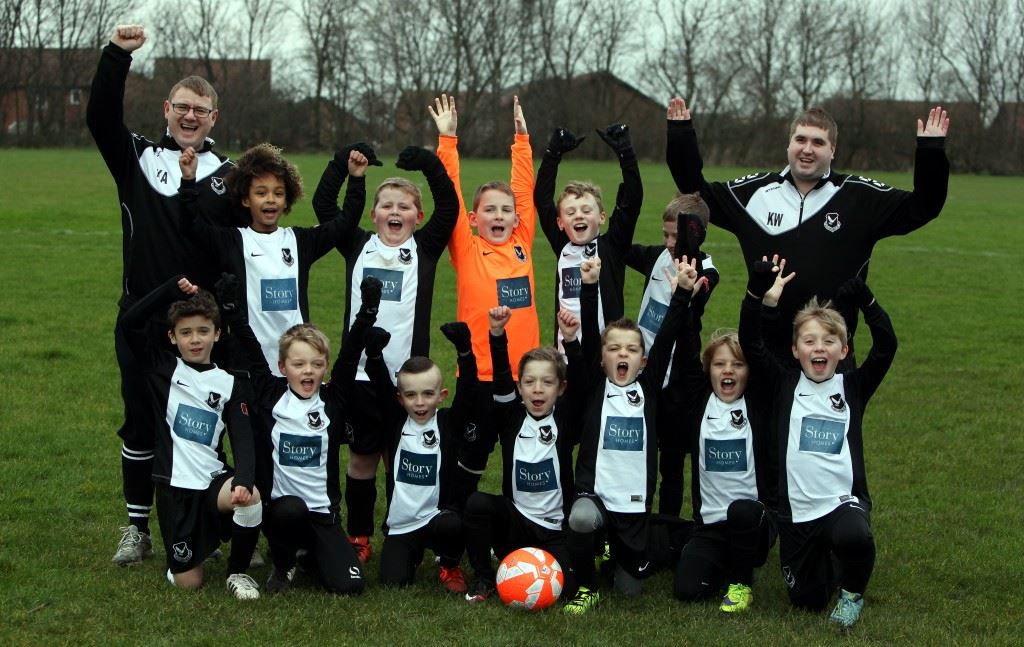 "For Story Homes to have a hand in providing that experience is great. They're not only building in the community, they're helping to build the community."
Cullercoats' under 9s play across two divisions against 15 teams, at pitches belonging to Killingworth Young Peoples Club. The team play the FA-operated 'Mini Soccer' game, which is designed to give children lots of touches, dribbles and shots. The club is constantly recruiting at all mini-soccer ages, including development and under 7 to under 10.
Story Homes' North East managing director Ian Worgan said: "We're delighted to be able sponsor Cullercoats Football Club's under 9s team, which provides a great opportunity for youngsters in our community.
"Story Homes is extremely proud of its track record in supporting organisations like this, and its role in building sustainable communities."
Story Homes has two developments near Cullercoats Football Club: Dove Park at Rake Lane and Brierdene at Backworth.