New homeowners at Story Homes' The Grange development in Dalston near Carlisle are given details of a dedicated travel plan when they move into their new homes. The business introduced the plan to minimise the perceived impact of traffic in the village. Story Homes identified the peak times experienced by residents and the plan encourages new and existing homeowners to look at options available to ease any possibility of congestion and to encourage sustainable practices.
The travel plan, which considers walking, cycling and car sharing, encourages residents to discover healthier and more environmentally friendly ways to travel.
Story Homes' is careful to consider the needs of its customers and this plan just helps them to ease into their new lives in a considered and thoughtful way. When you move into your new home questions such as 'Where do I catch the bus from?' or 'Where's the nearest train station?' are frequently asked questions and our travel plan can help you prepare your journeys to work, the supermarket and local amenities – something that is really useful if you're new to the area.
Ian Storey, Technical Director at Story Homes praises the plan: "We often find customers spend lots of time searching out for travel information when they move into their new home and our plan puts all this information in one place for them to access readily and easily.
"Hopefully, this will also get new residents thinking about the different options open to them and consider their travelling needs in a new way. We like to encourage our communities to explore greener and more sustainable ways of living."
Dalston is a picturesque village outside Carlisle and there are many places near and far to explore. Not only does the plan give you information on day-to-day living, but also gives guidance on leisure activities such as sightseeing walks and walking activity clubs in the area. Whether you're an intrepid explorer or a leisurely stroller, you'll find something of interest.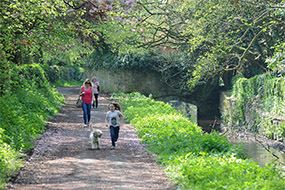 A dedicated website has been created for residents to view the travel information and find out more about the benefits of changing their travel habits. Visit www.thegrange-travel.co.uk to find out more information.
Story Homes always puts communities at the heart of its business and many new developments now have their own travel plan to support residents in lifestyle change and to address concerns from the local community about possible increased traffic movement from new houses. Other members of the established community are also encouraged to take part and consider their travel to help cut back on unnecessary journeys or consider more sustainable methods of travel.
Story Homes have introduced travel plans for many of its new developments and they have proved useful sources of information to residents. Buyers at High Wood, Lancaster and Cairns Chase, Stainburn have already taken advantage of plans in place.
To date, the development has sold 19 homes, with a further eight due for completion this month. Eventually provision will be made for a total of 121 high specification homes. The development brings the added benefit of affordable homes to the village. Story Homes' new site was launched in May 2014 with great success and customers queued from 5.30 in the morning to snap up the home of their dreams.
For more information about our highly desirable development The Grange, Dalston click here or contact Julie on 078119 86005.