Generous staff have handed over more than three and a half thousand pounds to a very worthy cause.
Hospice at Home received £3606.67 from staff at Story Homes and Story Contracting, both owned by Fred Story.
Hospice at Home Carlisle and North Lakeland was chosen by the Carlisle based Story companies as the annual 'Charity of the Year' for 2012-13. The charity provides free nursing for people at the end stages of life who prefer to be cared for in their own homes in rural north and east Cumbria and Carlisle.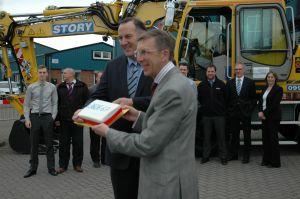 Staff raised money over the past year by holding various events including a quiz night, a Christmas raffle, a football competition and lots of cake baking and selling.
Fred Story, Chief Executive, said of the charity contribution: "Our staff always pull out all the stops when it comes to charity and we are delighted to give our donation to such a good cause. We are pleased that our fundraising efforts will support those who need it in the local area through the work of Hospice at Home. "
Sheila Thompson, Charity Director for Hospice at Home said: "We are very grateful to Fred Story and his team for their generosity and kindness. We have enjoyed working in partnership with the staff and the fantastic sum of £3606.67 raised will, at critical times, enable registered nurses to provide 28 nights of dedicated one to one patient care and give essential support to their families and carers."