Jubilee car park back in action
April 2016
Local residents are delighted to have restored the Jubilee Bridge car park which was damaged in the devastating floods, using funding from Story Homes.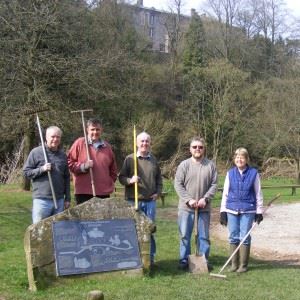 The car park near the Jubilee footbridge in Appleby used by walkers, cyclists, fisherman and the like was all but washed away in the floods in December last year. Story Homes offered up a financial donation of £300 to the Appleby Chamber of Trade to buy materials for repairs.
The local community then rallied round to provide the man power to restore the damaged car park and spent a few days preparing the site and spreading gravel.
Our Sales Manager Hayley Blair said: " It's great to see the community of Appleby getting back on its feet. They have really come together and all worked so hard to get back to business as usual. We are very proud to be part of this community in Appleby."
Carl Bendelow, leader of the Appleby Smarter project said: "Thanks to the support of Story Homes we could purchase the materials we needed to repair the car park. Our community was really hit hard by the floods and it might seem minor to some people getting this car park ready for use, but to us it's another step back to normality. "
Appleby Chamber of Trade supports and promotes the diverse range of businesses in the area, which offer services for visitors and local residents. Find out more about them here