'Magical' Builder Bear gets a new home for Christmas
December 2015
Valerie Warren and her family are looking forward to welcoming a new furry friend into their home this Christmas after winning a competition with Story Homes.
Valerie watched our Christmas video which sees cute and cuddly Builder Bear bringing the magic of Christmas alive. It features a young family and their daughter moving into their new home at Christmas but they've not had time to put up the decorations or tree. That is until Builder Bear reveals the most magnificent Christmas surprise.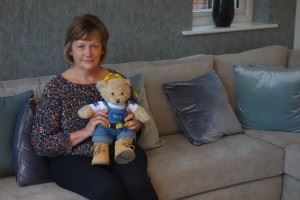 Valerie, who owns Woodlea Bed and Breakfast near Carlisle, said: "Me and my husband watched the video on Facebook and thought it was lovely. It really started to make us feel festive and we love the fact that it features a local girl. The house it was filmed in is absolutely stunning too.
"We've got six grandsons so our lovely bear will live with us and will no doubt be well played with and loved by all of them as well as our visitors. Thanks very much Story Homes!"
The competition asked the question 'how many stockings were hanging from the mantelpiece' in the video. The correct answer was two.
You can still watch 'the magic of a Story Home' video here