Story Homes has appointed a new Site Manager to oversee its development of 283 new family homes in Cottam.
Harry McEvoy joins the North West team and is currently based on
site at the
Waterside development where he will supervise the construction of the houses, handle the subcontractors and ensure that the work meets the legal requirements and building regulations.
Harry from Liverpool has more than 20 years' experience as a senior site and project manager, working on projects across the North West.
During his time in construction he has also worked in Saudi Arabia where he oversaw the construction of a Villa made out of lightweight steel, which was built for the King of Saudi Arabia's son. While in 2014 he was named the NHBC Regional Health and Safety winner.
The Waterside development is located to the south of Cottam Way and north of the Lancaster Canal.
It includes a mix of high quality two, three, four and five bedroom properties with 26 different house types on offer.
Work on the development started in January, with contractors undertaking clearance work before starting the infrastructure construction.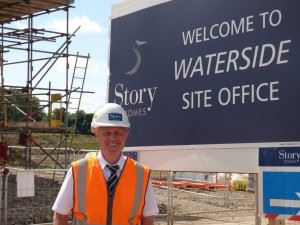 Harry said: "I'm delighted to be working for Story Homes. The company is building a fantastic reputation across the North West for building high quality family homes and I am very proud to be a part of the business."
Regional HR Manager Heather Churchman, said of Harry's appointment: "We are in the process of significantly expanding our operations in the region, and appointing experienced colleagues like Harry to our team is key to our success."
Cottam is the third of 11 development sites owned by the Homes and Communities Agency (HCA) which are being developed as part of the Preston, South Ribble and Lancashire City Deal.
The City Deal is an agreement between Lancashire Enterprise Partnership, Preston City Council, South Ribble Council and Lancashire County Council, along with central government and the Homes and Communities Agency (HCA). It will deliver nearly 17,000 homes in central Lancashire over the next 10 years.
Once completed, the full site will also include, retail, commercial and community facilities including children's play areas, open space, landscaping and associated infrastructure such as footpaths, cycle routes and ecological mitigations measures.
The development will also create a number of employment opportunities for local contractors, with positive knock on effects for the local supply chain and other local businesses and services.
For more information about working for us, click here.