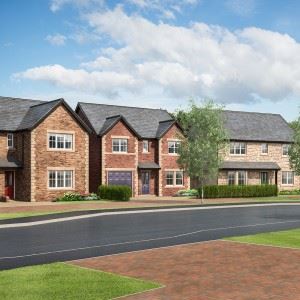 Story Homes has joined together with Northumberland Estates to put forward plans for 180 new executive homes at Backworth, North Tyneside.
This is one of two potential North Tyneside developments for the quality homes developer which has expanded rapidly in recent years and last year opened its new Newcastle Headquarters.
The Backworth development is expected to bring benefits to the local economy over the life of the development through direct and indirect job opportunities, payments to the local authority and orders placed through the local supply chain. Story Homes has a commitment to use local labour and materials wherever possible.
The development will see a mixture of two, three, four and five bedroom high-quality family homes, including an element of properties designated as affordable for local people. The scheme has been designed with a landscaped setting and ample public open space to be enjoyed by the whole community.
Steve Errington, Chief Executive of Story Homes, said: "We are delighted to be working with Northumberland Estates on this prestigious development. Our reputation for delivering quality homes with an excellent standard of finish tallies perfectly with The Northumberland Estates' plans for the site.
"We are looking forward to delivering a development with the standards customers expect of Story Homes while also, through our commitment to use of local contractors and suppliers, bringing economic benefits to the area."
Colin Barnes, Director at Northumberland Estates, said: "We are pleased to be working with Story Homes as they firmly establish themselves in the region, and think that the site at Backworth Park will set a high standard for development within the A19 corridor.
"This part of North Tyneside is critical to the economic success of the region providing high quality houses alongside major employment areas with good services and public transport."
Northumberland Estates originally obtained planning consent in November 2013 for a development of up to 590 residential dwellings, new primary school and separate building for local community use, with the residential element being split in to three lots. The Story Homes application relates to one of the three available lots.