Pupils celebrate year of Story Homes funded sport with annual festival
July 2014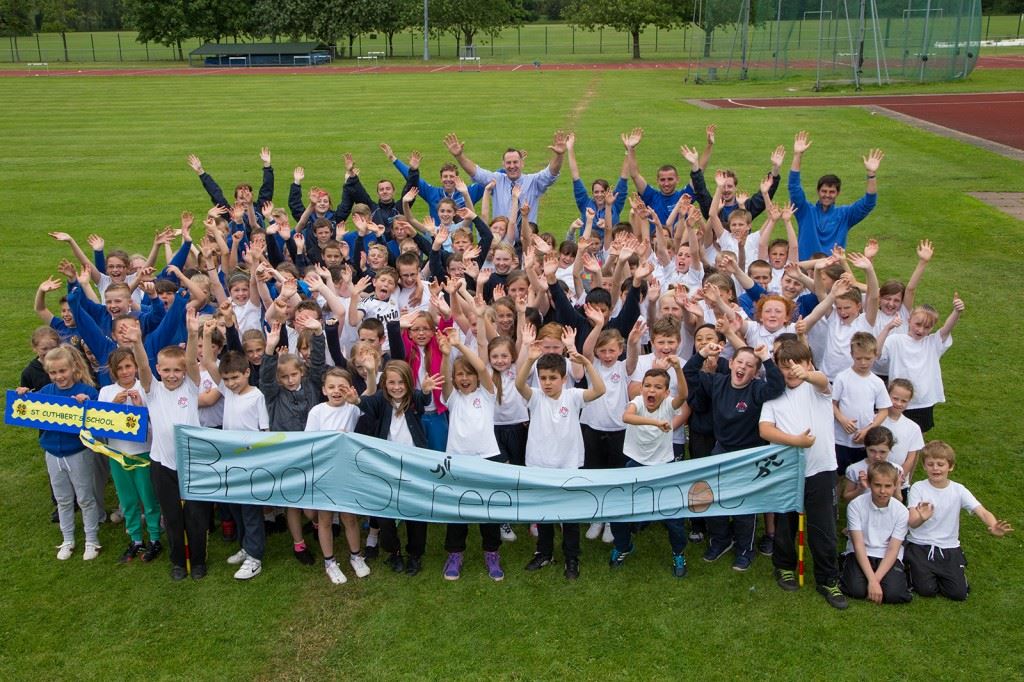 Hundreds of children from Carlisle schools celebrated new sporting skills at a special sports festival last week.
The children from nine Carlisle primary schools have been taking part in the Story Homes funded schools sports programme over the last school year. In partnership with Carlisle Sport and Physical Activity Alliance Foundation (SPAAF), Story Homes has funded the nine schools to receive sports coaching each week. Trained SPAAF coaches are delivering sessions within the schools, giving the pupils the opportunity to learn new skills in sport, healthy living, teamwork and friendship.
The celebration festival at Carlisle's Sheepmount stadium on Friday 4 July provided a great opportunity for the pupils to put into practice all of the skills they have been taught by their SPAAF coaches. The schools invited included:
Newtown Community Primary School, St Cuthberts RC Primary School, Brook Street Primary School, Kirkbampton CE Primary School, Bishop Harvey Goodwin School, Norman Street Primary School, Newlaithes Primary School, Upperby Primary School and Petteril Bank Primary School.
Brook Street School were the overall winners from the event and pupil Kye McVay was awarded with a special 'Builder Bear' prize from Story Homes after the coaches chose him as the pupil who had put in the most effort throughout the day.
The Story Homes school sports programme is heading into its third year, expanding into new districts to support some of the region's most needy schools. In 2014/15, the programme will fund coaching for nine schools, including five from Carlisle, two from Allerdale and two from Copeland.
The sports programme was set up by Fred Story and SPAAF in 2012 with the aim of keeping the Olympic legacy alive. Keen sportsman Fred was enthusiastic about supporting local children to ensure they all had equal opportunities to learn and participate in sports. To date, hundreds of pupils have befitted from the weekly coaching sessions. Feedback from pupils, schools and parents has proved that the programme has benefitted the children in many ways, from boosting confidence to encouraging participation in new sports.
Fred Story, Chairman of Story Homes said: "The sports festival is a great celebration event for the pupils to show off their newfound skills and take part in team and individual sports and it has been great to come down and see how much they are all enjoying themselves through sports activities. The programme overall was an opportunity for us to help local school children have fun through sport, and also learn new skills, keep active and improve their health and wellbeing at the same time.
"By giving back to the local community in this way, we hope to achieve some long term benefits for the pupils and their families. I am really pleased with how the school sports coaching programme has progressed, originally supporting five schools but now reaching nine schools. It is very rewarding to hear that the children are enjoying the programme and using new sporting skills out of their school environment."
To find out more about SPAAF visit www.cumbrianspaaf.com.