Rory loves his new playroom at The Woodlands
November 2016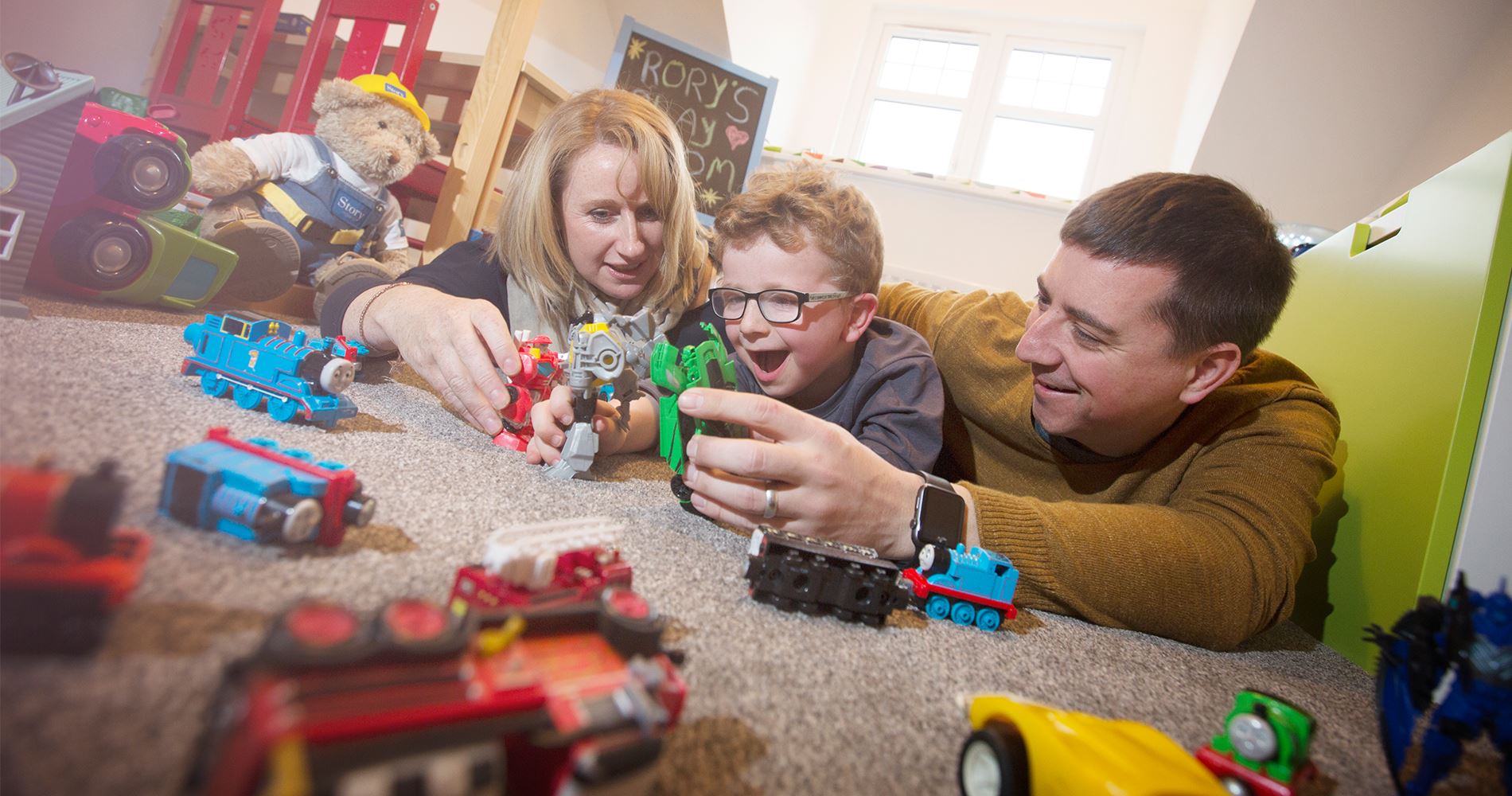 Four-year-old Rory Dick is one lucky little boy. Thanks to his mum and dad buying a new home at our award-winning Shotley Bridge development, The Woodlands, he now has a brand new playroom to keep all of his toys, including a reading window-seat looking out onto the street.
Not only that, but he has woodland walks on his doorstep and beautiful views across the Derwent Valley from his back garden.
Mum Sarah, a lecturer at Derwentside College in Consett, said: "We were living in a four-bedroom townhouse in Burnopfield which we loved when we first moved in but after having Rory it became completely impractical!
"We had been looking at a number of 1930s properties and only really visited the Story Homes show homes at The Woodlands for interior design ideas. When we were looking around we loved the traditional quality of the homes and thought the finish and specification was fantastic.
"We put our house on the market and it sold within six months. Buying with Story Homes was so straightforward, it was easier than we ever imagined. We moved into a rental property while we waited for our home to be built, and were delighted when it was ready earlier than anticipated. We've been in three weeks now and are incredibly happy with our new home."
Sarah and husband Ed, who works as Deputy Harbour Master at the Port of Blyth in Northumberland, bought at Otterburn house type at The Woodlands – a four-bedroom detached property which features a spacious open hallway and a kitchen dining room than overlooks the garden.
"I can't believe the view from the kitchen window", Sarah continued. "Buying a new build, I thought that a nice view was something that we would have to compromise on, but not at The Woodlands. I look out of the window every morning when I'm having my morning coffee and watch the mist rise up from the valley. It's absolutely beautiful."
Rory and his new best friend Builder Bear are particularly happy with their new play area. "Rory sits on the windowsill and watches all of the workmen on site" said Ed. "Considering we are in close proximity to the building site we never hear a thing.
"Rory has really taken to his play room, and it's great for us to have a space where we can store all of his toys so they aren't all over the house. If we want to go for a bike ride we are just straight out of the back door and he can ride for miles – it's a four-year-old's dream home really!
"Buying with Story Homes has been great. Little touches like moving in to find a Builder Bear for Rory, flowers and a hamper full of treats from Ringtons was a lovely touch and made us feel at home straight away."
We are currently selling the fourth and final stage of The Woodlands, which is four years through a seven year build. There are just 70 houses left to sell on the development, which has just won its third UK Property Award for Best Residential Development in Durham.
Click here to see the full range of homes currently available.