We're excited to be attending The Westmorland County Show in Kendal on Thursday 8 September, and of course we'll be bringing along everyone's favourite mascot, Builder Bear.
The Story Homes team will be on hand to distribute leaflets and other goodies including chocolates, pens, keyrings and more. We're holding a prize draw for Booths' goodies and children can get involved too by taking part in our colouring competition to win our exclusive Builder Bear teddy bear.
The Westmorland County Show is one of the largest one day Shows in the Country and certainly one of the oldest, given that the Society was founded in 1799 and is still going from strength to strength 215 Shows later. Voted by the Farmers Guardian readers as the 5th top Show and the only one-day show in the top 12!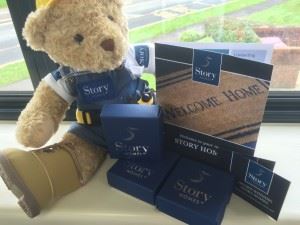 We've partnered with our chocolate supplier Saunders to give away chocolates when customers register their details and enter our competition to win a Hamper full of Booths' goodies. And, we are excited to partner withFizz and Flute … we'll be giving away a flute of fizz and mocktails too.
So, come and say hello, find out about our stunning developments across Cumbria and the North West and enjoy a glass of fizz.
See you there!