School pupils will 'shine' through Story Homes supported awards
June 2015
Hundreds of Cumbrian school children are taking part in the U Can Shine 'U Awards 2015', supported by Story Homes.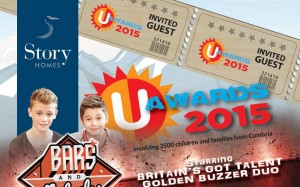 Pupils from across North Cumbrian schools will take part in three evenings of events from Tuesday 23 – Thursday 25 June 2015 at the Sands Centre, Carlisle. They will be recognised and rewarded for their hard work and achievements throughout the year before they are entertained by Bars and Melody, former finalists on Britain's Got Talent.
Fred Story, Chairman of Story Homes, who is a self-made businessman, will also be giving an inspiring speech to the children about how they can achieve anything they set their minds to.
Story Homes will be sponsoring the 'Against All Odds' category across the three evenings. The participating schools for each evening include:
23 June – Blennerhasset School, Brampton Primary School, Pennine Way Primary School and St Bede's RC Primary School
24 June – Norman St Primary School, St Margaret Mary Catholic Primary School and Petteril Bank Community School
25 June – Distington Community School, Valley Primary School and Victoria Junior School.
Story Homes has previously been involved with U Can Shine and Petteril Bank School through the Bright Stars project, with Chairman Fred Story and Chief Executive Steve Errington taking part in a 'Dragons Den' style event. The pupils pitched for sponsorship and were given funding and advice by Story Homes to support their mini fundraising 'business'.
For more information about Story Homes community activities click here. To find out more about the U Can Shine Awards, click here.
Tickets for the event are available and more information is available here.