Story Homes has been awarded a customer service accolade for commitment to customer care.
The Customer Service Excellence Award, presented at the CN Business Awards, highlights the care that goes into the after sales service.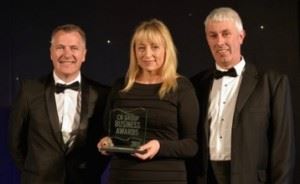 The customer care team, led by Customer Care Manager Rachael Norman looks after home buyers and any issues they have for two years after they purchase their new home under the guarantee scheme. The team are also proud to say that they offer advice and support to all customers, no matter the age of their Story Home.The CN Business Award for Customer Service Excellence was presented to Rachael and Contracts Manager Richard Cannon at a ceremony on Thursday 17th October.
The team were up against stiff competition but were chosen after demonstrating the very highest levels of customer excellence including a clear and well implemented customer care policy, evidence of standards of service which exceed customer expectations and evidence of how customer care contributes to the overall success of the company.
Steve Errington, Managing Director of Story Homes said: "Customer Care is one of the most significant parts of our business. We take the extra care and effort to engage with our customers and ensure that they have a great experience when they buy a new home from us. We regularly receive very high levels of positive feedback from our customers and we know that many of our buyers have visited our show homes following a recommendation from a friend or family.
"The customer care team are responsible for customer care but each and every one of our colleagues has a level of responsibility for providing a top class service to the customers who choose to own a Story Home."
To read comments from some of  our happy customers click here.