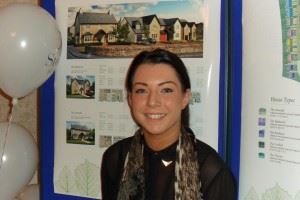 Shona Cunningham has made the most of the Government's Help to Buy scheme by taking her first big step onto the property ladder. Shona, 25, put her name against a four bedroom detached Story Home after learning more about Help to Buy.
Shona, who works for Sellafield, currently lives with family in Gilgarran and chose to buy at Whins Farm Close in High Harrington as it's close to her work base in Lillyhall.
She said: "I wanted my own house but everything I had already viewed needed lots of work to make it liveable. I'm on my own and I work all week so I really wanted a house that didn't need any work done to it.
"Help to Buy has allowed me to do that and I'm really happy knowing that I'm going to be moving into a house that is brand new and perfect already. "I'm already excited about moving in having my own 'forever home' where I can stay and be happy for a long time."