Staff from Story Homes took part in the Eden Valley Hospice sport shirt fundraiser earlier this month.
Eden Valley Hospice is Story's charity of the year for 2013/14. The charity was chosen by the staff and they have organised various events throughout the year to support the local hospice.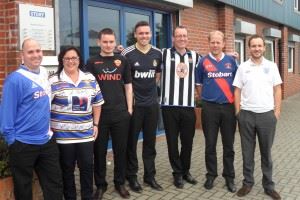 The sports shirt fundraiser was organised by the hospice for local businesses, schools and individuals to take part in.
Staff from Story Homes and sister company Story Contracting donated £2 each to wear a sports shirt to work on Friday 20th September.
To find out more about Eden Valley Hospice visit http://www.evhospice.org.uk/.