Discover how this Story Home owner has styled our Home of the Year
June 2018
Having announced our four-bedroom detached Taunton as our first ever Home of the Year, we caught up with one of our customers who has made their Taunton their own.
Gayle Wray moved into her home at Kingsbrook Wood, Middlesbrough, two years ago, along with her fiancé Sam and dogs Lola and Milo. Since then, Gayle has personalised her home with a classic colour scheme, stylish furnishings, on-trend accessories and an inviting outdoor space. She has shared it all on her popular Instagram account, @gaylewray, and now she has invited us into her beautiful home to take a look for ourselves…
Story Homes: What first attracted you to our Taunton house type?
Gayle Wray: I just loved how light and spacious it feels when you first walk in – especially with the Taunton's skylight that gives it the wow factor as you enter. The layout of the rooms was ideal, and as there are only two of us I immediately started to plan how I could transform certain spaces.
SH: How have you used the flexible space to your advantage?
GW: The living room is very large with a section that could be used as a dining room. However, as we have a dining table in the kitchen, I decided to turn half of the living room into a cosy TV area, with the other half acting as a more formal seating area when we have guests.
Also, as there are only two of us and we don't need all four bedrooms, we have turned one into a walk-in wardrobe. This was the final room to be completed and I'm so happy with it.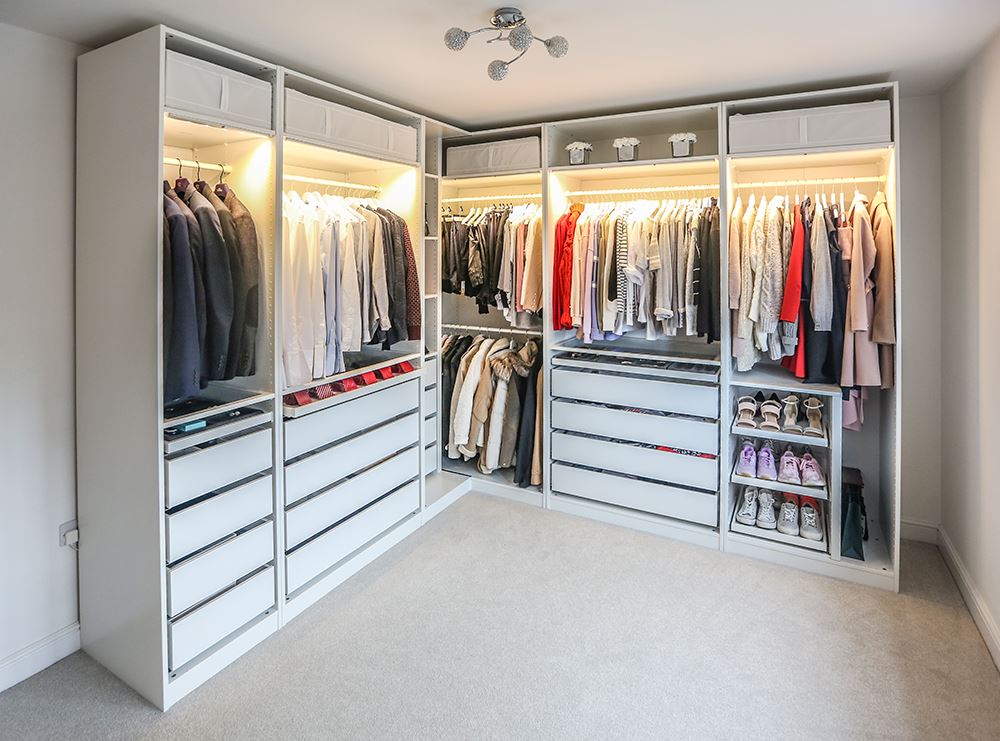 SH: Which is your favourite room?
GW: The kitchen. We spend a lot of time in there, cooking and working, and the French doors into the garden are great for the dogs and for when we have guests round. I'd also underestimated how much I would appreciate the breakfast bar.
SH: Where do you go to find home inspiration?
GW: Obviously Instagram and Pinterest are great places to start. We travel around the country a lot, so I'm often visiting little independent shops in places like York to find bits and pieces. I bought quite a few items before we had the house, and when we moved in it all came together really well.
As well as using Pinterest, I also created a real-life mood board by cutting out things I liked from home magazines.
SH: Tell us about your colour scheme?
GW: I decided to keep the colour scheme quite neutral with greys and creams, so that I can bring in different colour accents. It makes it easy to transform the house in different seasons – for example in winter I'll change the cushion covers, light lots of candles and introduce flowers in more festive colours.
SH: Do you have any decorating tips for other Taunton owners?
GW: I would definitely recommend visiting a Taunton show home to get a good idea of the layout and size of the rooms – this will help you see which furniture will work in which room.
My advice is to shop around and buy bits and pieces that you like – don't worry too much about how it will all fit together as you can make it work. I have shelves displaying accessories that are all from different shops and I'm constantly swapping them around.
Retailers I love include Oliver Bonas, Laura Ashley and Anthropologie. I also like MADE and found our glass coffee table there. I'm always out for a bargain so I've found some lovely accessories in places like TK Maxx too.
SH: How do you use Instagram to showcase your Taunton?
GW: My Instagram (@gaylewray) ended up becoming a home inspiration type of account as I was keen to share images of our house coming together. I post the types of things that I enjoy seeing on other people's accounts, and it's great to have followers engaging with my posts and messaging me to ask where certain pieces are from.
I take most of the photos on my phone – a Samsung Galaxy S8 – ensuring that the lighting is consistent and shows the interiors in the best light. I also use the VSCO app to edit the images before posting them.
SH: What are your favourite pieces in your home?
GW: I love my new silver trays from Laura Ashley in the living room. It's amazing how the addition of the trays to the coffee table makes it look so much more put together. I'm a big fan of accessorising with candles from Aldi or TK Maxx too.
We decided to invest in the bigger pieces, such as tables and sofas from Barker & Stonehouse, and then buy cheaper decorative items. Dunelm and The Range are great for this.
SH: What have you done with your outdoor space?
GW: Our plot has a large garden which is great in the summer and for our dogs. We've got outdoor furniture for the paved patio and we've recently completed some planting around the edges. We decided on trees that would last and be easy to maintain, and we'll change the flowers with the seasons.
SH: How have you maximised your storage space?
GW: We transformed the garage into a gym but it still has room for quite a bit of storage. We find the cupboard under the stairs very handy, and by having a wardrobe room it helps to keep everything stored neatly. All the bedrooms are big enough for a wardrobe and drawers too. We were really pleased with how much storage we had in a new-build.
SH: Are there any other Instagram accounts that are worth following for home inspiration?
GW: I would recommend @denisedee02 and @housetohomeatlast.