Match Report
"A Charity Football Match in aid of the Air Ambulance was the third event of the Story Cup where Story Homes took on Story Contracting at Brunton Park.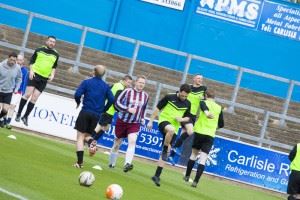 "Story Homes had a superb mix of players from all regions. The squad consisted of Adam Osliff, Adrian Griffiths, Brian Gilfillan, Carl Phillips, Kristian Jordan, Rob Fowler and Scott Weston all from Site, from Head Office we had Adam McNally, Luke Walker, Matthew Swallow, Nick Fisher and Will Swallow, from Region 2 we had Nick Anderson, Nick McLellan and Richard Newsome, and from Region 3; John Winstanley. We were also joined by Chris Walker, Lee Johnston and Kelvin James from the Stores Counter at Story Contracting.
"Due to us all being at our career lows in terms of fitness, we decided the game should be split 4 quarters giving our aching bodies more time to recover, the majority of us even needed a 30 minute rest after the warm up!
"The game was played in excellent spirits by both sides, but it was Story Homes that got an early grip on the game and took a first quarter lead, when Adam Osliff barged his way through the Story Contracting defence to bundle home Nick Fishers excellent cross. With Adam lying bottom of a Story Contracting ''Pile On'' he unfortunately later had to leave the field with a sprained knee. Story Homes continued to dominate and with the help of Luke Walker's usual dose of bird flu, he coughed and spluttered over the opposition to create an opening for Brian Gilfillan to make it 2 nil. Nick Fisher got a well earned 3rd goal in the third quarter and if Adrian Griffiths managed to score one of his 67 chances, we'd have been well out of sight by the time of the 4th quarter! But after a 85th minute debateable penalty, where Richard Newsome merely breathed on someone, Story Contracting reduced the deficit. Story Contracting added a second in extra time when they bundled in a corner. Homes held on for a deserved victory, Kelvin, Brian, Nick McLellan and a topped up with pain killers Carl Phillips were excellent in midfield and the team was marshalled on the back with the superb Swallow brothers.
"It was a brilliant and enjoyable day for everyone involved. With the Homes team being a mix from all the Regional Offices, Site and 3 from the Stores Counter, it was the first time the majority had met one another, but there was a great team spirit that was evident for all to see.
"Thanks to all those that took part in the match and also to those that came down to support the team and for all the money raised for the air ambulance."
Team Manager – Andrew ''Jurgen Klopp'' Hewson