Story Homes staff elected to support the Air Ambulance as this year's charity of the year, and are aiming for the skies with their fundraising target.
Our staff fundraising efforts have raised over £3,000 so far with many more plans underway.
Activities taken place this year include a summer barbeque, golf, Gelt Gladiator, the 'Great Story Bake Off' to name but a few. The team are readying themselves for a zip wire across the Tyne, the Cumbrian run and a very challenging cheese and wine night to raise further funds.
Grahame Pickering MBE, GNAAS Chief Executive, said: "Last year we treated 846 patients throughout the region. Everything that enabled us to do that, from the helicopter itself, to its fuel and the equipment it carries, was paid for out of donations.
"We simply could not continue to reach all of our patients without the support of people in the region."
Steve Errington, Chief Executive for Story Homes said: "Everyone is really getting behind the charity and being creative in their fundraising plans. The air ambulance saves lives every day of the year and we're proud to support them in any way we can."
Rachel Collinson, Corporate Fundraising Officer at the North West Air Ambulance Charity, said: "We'd like to say a huge thank you for this donation. We attend over 2,000 incidents across the region each year and rely entirely on the generosity of amazing supporters like Story Homes to keep our helicopters operational. We wouldn't be here without you!"
Great North Air Ambulance (GNAAS) has launched a fundraising appeal for the National Air Ambulance Week, which runs from September 19 to 25. The campaign aims to provide the charity with a more sustainable income by asking supporters to sign up to its monthly text giving service, which donates £3 every month directly from supporters' phone bills. If you would like to help by donating £3 a month from your mobile phone, please text SAVELIVES to 70660.
The North West Air Ambulance Charity is celebrating National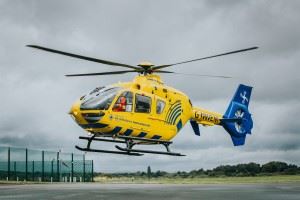 Air Ambulance Week with its inaugural Mission Walk, a brand new event on 25th September. The Mission Walk will give supporters the chance to raise funds by taking part in a choice of two scenic routes in Wyresdale Park near Preston; a challenging 10km hike or a shorter, gentler 8.5km. Entry fee is £15 for an adult raising sponsorship, and £7.50 for children aged 6-15 years. To register for the Mission Walk please visit www.nwaa.net/missionwalk or call the team on 0800 587 4570.