Story Homes helps First Responders purchase life-saving equipment
January 2020
The Carlisle and District Community First Responders are one step closer to purchasing the lifesaving equipment they need thanks to support from Story Homes.
The local housebuilder has made a donation to the organisation as part of its 'Future Story' scheme, which aims to help the communities that surround its developments – which on this occasion are Aspen Grange, The Ridings and Priory Grange in Carlisle and the new Winchester Place development in Brampton.
Carlisle and District Community First Responders are a group of local volunteers supporting the North West Ambulance Service. They are part of a larger network of Community First Responders (CFRs) who support their local ambulance service across the UK.
Each CFR is trained to provide life-saving support to those in need, and because CFRs are based within the local community, they can assist people in life-threatening situations within minutes of an emergency call. They often arrive ahead of the ambulance and can provide life-saving assistance until paramedics are able to attend the patient.  A pager system linked to the 999 service notifies the CFRs of emergency callouts.
The financial donation from Story Homes shall be used to help purchase the equipment that the Carlisle and District Community First Responders require to help save lives, this includes Automated External Defibrillators, Basic Life Support Bags and equipment to help with breathing difficulties.
John Cruse, Team Leader of the Carlisle and District Community First Responders, said:
"Our organisation relies on voluntary contributions and local funding to cover the cost of running the team.  Thanks to the donation from Story Homes, we are able to purchase extra equipment needed to care for patients and help save lives across Carlisle and the surrounding areas. We also host events teaching basic life support by means of CPR to community groups and businesses, and funds will also be used to purchase training aids."
Colin Wood, Managing Director for Story Homes in Cumbria & Scotland, commented:
"The homes we build are part of wider communities, so helping charities and organisations that benefit local people is very important to us. We endeavour to support local charities and organisations in ways that add long term value and as a Carlisle-headquartered business, it is great to help the CFRs who are doing fantastic work within the community and are helping people all over our city."
'Future Story' is a company-wide programme designed to support sponsorship or donation requests from charities and community organisations that surround Story Homes' developments in Cumbria and Scotland, the North East and the North West of England.
Story Homes accepts applications for sponsorship and donations from the local community, with a regional committee reviewing submissions on a regular basis. Applications can be made by sending a brief description of the request for funding to Communications@storyhomes.co.uk.
For more information about the Carlisle and District Community First Responder Group please contact: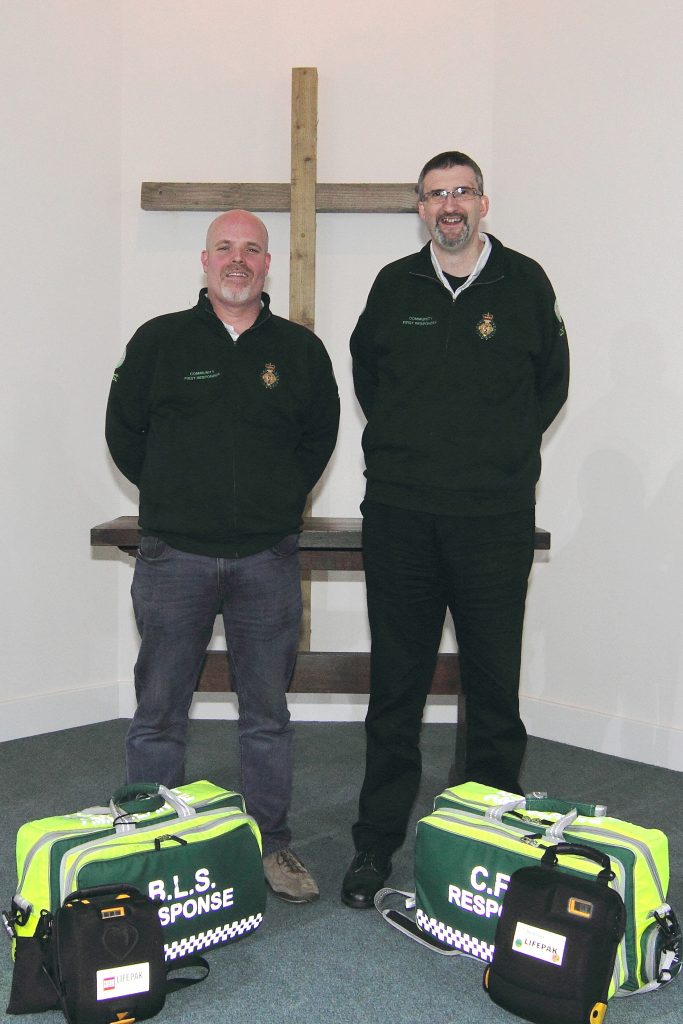 L to R – Stephen Fitzpatrick and John Cruse from the Carlisle & District First Responders