Shaddon Mill lights up with festive messages
December 2013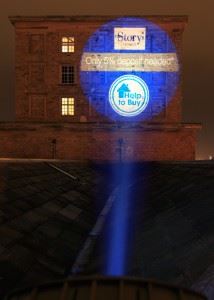 The Shaddon Mill building in Carlisle is lighting up Christmas for neighbours and passers by again this year.
The Story Homes building is displaying festive messages for Story Homes, partner organisations and the company Charity of the Year.
Eden Valley Hospice are Story Homes chosen charity for 2013/14, with staff taking part in various activities throughout the year to support them. The charity now has a projected advert on the side of the stunning Shaddon Mill building to promote their light up a life campaign.
Matt Boyle, Head of Marketing and Income Generation for Eden Valley Hospice said: "We are delighted to be Story Homes the charity partner for this year and so grateful to have the support of their staff. It has been a busy year of fundraising events and we are thrilled to have been given this latest opportunity to promote our annual Light Up a Life Appeal".
The former mill was converted by Story Homes in 2005 to include a number of flats and penthouse apartments. StagedRight, a local performing arts organisation, now also use space in the building free of charge.
StagedRight regularly hold performing arts classes and performances which include local children and teenagers. StagedRight are using Story Homes' projector to promote their Christmas performance, taking place between 20-23 December 2013.
Story Homes are also promoting developments across Cumbria, the Help to Buy scheme and wishing the whole community a very merry Christmas and Happy New Year!
To find out more about Eden Valley Hospice visit: www.evhospice.co.uk
To find out more about StagedRight visit: www.stagedright.co.uk